A Matter of Myrmidons
Comments

2
2,975pages on
this wiki
A Matter of Myrmidons is a quest available in Dragon's Dogma.
Objective
Edit
"Upon arriving at Gran Soren, you decide to seek further knowledge of the pawn legion as you wait for Mercedes to deliver her report"
This quest is obtained automatically after talking with Mason.
Learn More of the Pawns (optional)
Speak with capital's residents to gather information about mysterious pawns.
Visit the Pawn Guild
Consult the guards and visit the Pawn Guild on the western side of the capital.
Quest Successful
You reached the Pawn Guild and spoke with Barnaby the manager there. Quest reward received.
Walkthrough
Edit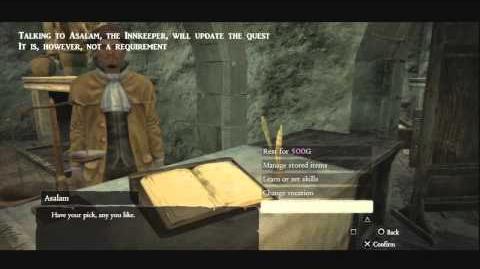 This quest is started when talking to Mason. He will tell you to talk to others in the city to find out more about pawns. This is a short quest which may be completed without actually speaking to the residents.
Learn More of the Pawns (optional)
Edit
There are two residents you can speak to advance the quest. This part of the quest is optional and you may continue to the gate directly north of Fountain Square. To complete this part first speak with Sara who will point you towards Asalam the innkeeper. He will give you more information. You may also use his services while you are here. The inn in Gran Soren is the only place in the game where you can switch Vocations. You may do so if you wish.
Visit the Pawn Guild
Edit
Whether or not you spoke to Asalam your next stop is the gate leading to the Craftman's Quarter to the north of Fountain Square. When you approach the gate a guard will speak with you and let you pass. Take the road down the path to the east and you will find the Pawn Guild. This is a good opportunity to find your first Ferrystone. One may be found near the fixed Portcrystal right next to the Pawn Guild. Talk to Barnaby inside the Pawn Guild to complete the quest.
Quest Successful
Edit
Once you complete the quest no new quest is automatically given. You may however now speak with Barnaby to start the next main quest called Lure of the Abyss. Doing so however will render some side quests such as Lost and Found unable to start or complete. Most of these are quests gotten in Cassardis so you may want to travel back there and complete these first.
The quest causes some confusion since it states you investigate the Pawn legion while waiting for Mercedes. Mercedes however never returns after reporting to the duke. It is markedly confusing since Mercedes said she will return for you at the end of the quest Off With Its Head. In fact it is entirely possible you will never speak to Mercedes again until close to end game.
Once you gain control in Gran Soren you are free to explore the entirety of Gransys.