Abyssinal Outfit is DLC armor available in Dragon's Dogma.
Description
"Mythical raiment that emits a dull glow. Only those who plumb the world's depths might obtain it."
Usable By
Stats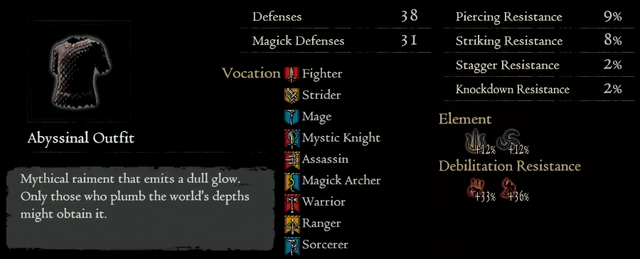 Location
Reward for defeating The Dragon Grigori in Hard Mode.

Implementing Hard Mode from the beginning of the main quest in Cassardis through the defeat of The Dragon is the only way to acquire the Abyssinal Outfit, unless gifted by another player.  

For players of the original "vanilla" version of Dragon's Dogma, Hard Mode was first offered in subsequently discontinued free DLC: Challenge Pack: A Trial for Adventurers. See that DLC page for additional discussion.
Hard Mode is included in the Dragon's Dogma:Dark Arisen version of the game.
Players may switch to Hard Mode at any time with no loss of equipment, Gold, experience, levels, Rift Crystals, etc.  Switching to Hard Mode will restart the story from the beginning, meaning the loss is only to the player's current story progression, unless the player is still within their first playthrough.

Quest completion in a partial first playthrough will count towards completion of quests necessary for The Hero trophy/achievement, but not for The Ever-Turning Wheel.
Enhancement Item Locations
Notes
This item has the best total of both Striking and Piercing resistance of all the Chest Clothing.
Gallery