Alchemickal Hosen is clothing available in Dragon's Dogma.
Description
"Red hosen dyed with material of alchemick origin."
Part of the Alchemical Set.
Usable By
Stats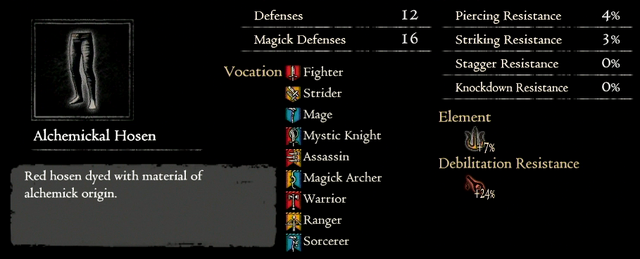 Location
Sold by Madeleine. (Stage 4+ and High Affinity)
Can be found in the Blighted Manse in the underground/tunnels. In the "great room" past the first spill way; there will be lots of wooden path ways along with stone path ways on either side of them. At the end of the right stone path is the chest. You can make a running jump up from the wooden paths. They have a 25% chance of finding them. This chest also holds Brown Laced Leggings with a 25% chance of finding them also.
Found in Leaper's Ledge in a Weapon/Armor Pile.
Enhancement Item Locations