Apollo Mask is armor available in Dragon's Dogma.
Description
"A mask named for a hero from beyond the rift. Wearing it bestows the user with holy protection."
Usable By
Stats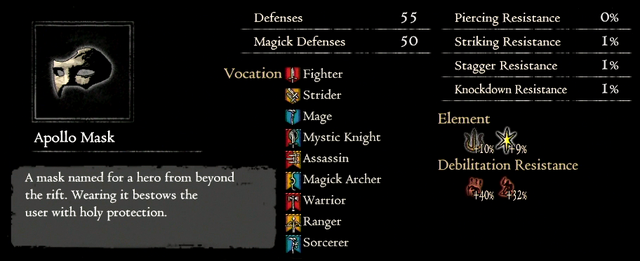 Location
Random reward for only those who obtain a kill on the online Ur-Dragon. The Online Ur Dragon will bestow one of the four masks as part of a kill reward.
Enhancement Item Locations
Trivia
According to Greek Mythology, Apollo was the son of Zeus and Leto (along with his twin sister Artemis). Four days after his birth, Apollo slew the cursed ("chthonic") dragon Python at Delphi. Python was sent by the jealous Hera in retaliation for Leto's affair with her husband, Zeus.
This mask is named after Apollo, an ancient Greek God.
Gallery