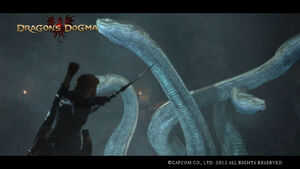 Archydra is an Enemy in Dragon's Dogma.
The Archydra is a stronger version of the Hydra, with white scales rather than black. The Archydra has higher attack and defense than the Hydra, and on death will yield some unique crafting items.
It can be encountered in the post-Dragon The Everfall in the Chamber of Hesitation, and is one of the random encounters in post-Daimon Rotunda of Dread.
The Archydra's behavior, skills and abilities mirror the hydra - it can regenerate heads, is vulnerable to fire, and can swallow opponents - bestiary knowledge for both sub-species is shared.
Information and Stats
Edit
General Info
Edit
| Health | Attack | Defence | Magick Attack | Magick Defence | Weight |
| --- | --- | --- | --- | --- | --- |
| 100,000 | 3,200 | 300 | 1,500 | 300 | 50,000 kg |
Damage Taken
Edit
| Slash | Bash | Fire | Ice | Thunder | Holy | Dark |
| --- | --- | --- | --- | --- | --- | --- |
| 110% | 50% | 60% | 30% | 30% | 60% | 10% |
Attack
Type
Description
Run Over
Phys
A charge that knocks you over.
Neck Smash
Phys
If climbing a neck, it will smash itself to the ground for very high damage.
Head Strike
Phys
A head smash that stabs the ground.
Poison Spit
Mag/Status
Sprays up to 4 beams of poison that have long range and linger on the ground for a time after being sprayed. Can cause Poison and Blindness.
Tail Whip
Phys
Spins around and whips you with its tail. Has long range.
Eat
Spec
Attempts to swallow you or a pawn. If you fail to free yourself (wiggle the L-stick fast enough) and are swallowed, you will die instantly if you aren't freed before reaching the main body. Pawns swallowed and not freed cannot be revived and will need to be re-hired.

If you are by yourself and have no Pawns with you and fail to free yourself, you die instantly and not get to see yourself sliding down its throat.

If poisoned or blinded by the spit attack and attacked with the "Eat" move afterwards, you won't get the prompt to free yourself and will be instantly swallowed, resulting in death if no Pawns are around to save you.
Item Drops
Edit
Tactics against an Archydra are very similar to those against a Hydra.
Offensive tactics
Edit
Nearly impervious to Dark magic (High Maelstrom is almost completely ineffective).
Weak to Fire. Fire enchanted weapons, fire-based spells, and items causing fire are all effective.
Weak to edged weapons. Swords & daggers can cut off its heads.

Attacks closer to the heads are more effective.

Immune to debilitations, except Tarred in oil and Lowered Defense (throw a Skull or use Sapfire Daggers).
After cutting off a head, setting the stump on fire will delay the regeneration of the head whilst the stump is ablaze.
Attacking a dead stump seems to inflict more damage than attacking the other heads.
After one of the heads initiates a "head butt" strike, the head will be temporarily at ground level - use this opportunity to decaptitate with a strong physical attack, or to mount the snake near to the neck, and then attack.
Climbing tactics
Edit
Vocation-specific tactics
Edit
Rangers, Striders, Assassins : Blast Arrows will cut off heads, and successive Blast Arrow hits on a stump not only cauterize but also exploits the additional damage hitting a stump receives. Standard climbing attacks and techniques of choice can be used on the neck.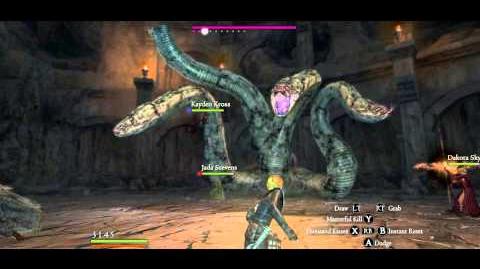 Defensive tactics
Edit
Avoid the tail area. Striking the tail inflicts no damage, but tail whipping can inflict great harm to the Arisen.
Using multi-strike attacks (like Great Windmill or Thousand Kisses) on the neck area (while standing on the ground) with a Holy enchanted weapon (like Ascalon or Heaven's Key) will incrementally heal the Arisen.
For full information, refer to the Pawn Bestiary Knowledge page or the according section on the Hydra page. Enemy specific :
In addition to witnessing these techniques, it is necessary for Pawns to participate in killing 7 Archydras either with their own Arisen or while travelling with others.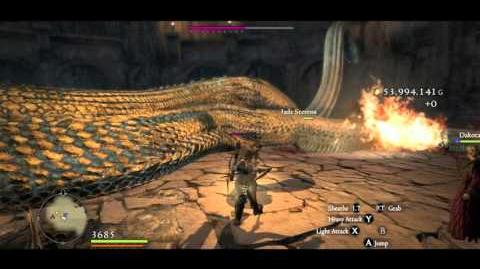 The Headshunter trophy or achievement can be obtained by defeating a Hydra or Archydra.
Related quests
Edit