Arsmith's Alehouse
Comments

6
2,978pages on
this wiki
Arsmith's Alehouse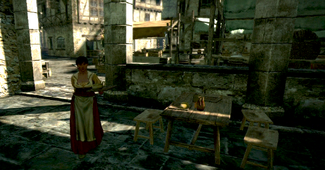 Location Info
Arsmith's Alehouse is a location in Dragon's Dogma.
A drinking establishment, and the source of various quests.
Characters
Edit
Arsmith usually hangs around here, and when you complete one of the quests at this notice board (which are almost all collection quests), he is the one you need to deliver the goods to.
Notice Board
Edit
The alehouse provides a notice board containing many Notice Board Quests. Several are directed by Arsmith himself.