Ascalon
Weapon Info

Base Weight

1.64

Cost

NA

Value

523,200 G

Type

Swords
Ascalon is a weapon available in Dragon's Dogma.
Description
Edit
"A sword wrought of an unknown metal imbued with holy light, giving its blade an otherworldly glow."
Usable By
Edit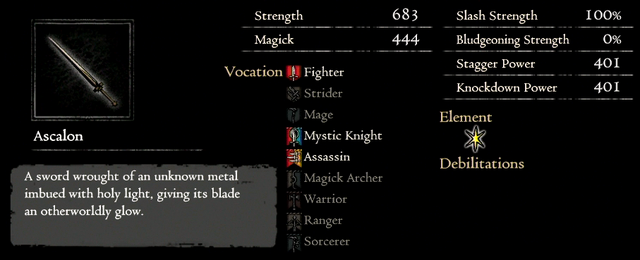 Possible reward for killing the Ur-Dragon (offline and online).
Enhancement Item Locations
Edit
Magic enhancing augments like Acuity and Attunement increase the effectiveness of magic imbued weapons.
Although they are NOT the most powerful primary weapons in the game, Holy enchanted weapons like the Ascalon sword, Heaven's key, Cursed Light sword, Totem Mace, Dwells-In-Light longsword are arguably the most useful single weapon for a pawn or Arisen to wield since they damage EVERY creature type in the game (except Death and the Dark Bishop) and VERY effective against all ghosts/specters, undead, skeletons, Living Armor and the Ur-Dragon. For Death and the Dark Bishop specifically, one should bring along a straight up physical damage weapon like Framae Blades, Devilsbane sword, etc. For Dark Bishop one might consider bringing a Dragon Forged minimum Golden Weapon to silence him, optionally changing to more powerful weapons once he has been silenced.
Ascalon was the name of the sword Saint George used to slay a dragon in legend.
Due to its Holy Enchantment, attacking foes with Ascalon can cause small portions of health to be re-gained.