Badge of Vows 77
Comments

7
2,978pages on
this wiki
DESCRIPTION
Badge of Vows 77 is a quest item from the From A Different Sky - Part 8 DLC. Merely picking it up satisfies the goal needed to complete the quest.
---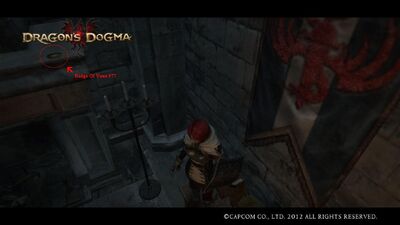 Badge of Vows 77 is located inside the Duke's Demesne on the second floor in the Duke's Solar. It's easily viewable but not easily reached. It's on the top of the fireplace, but jumping onto the mantle causes you to enter a free fall animation for an extended period of time before teleporting back to the position you jumped from. Arrows do not appear to dislodge it from its perch.
Walkthrough
Edit
As any of the vocations that use magick, cast Frigor / High Frigor near the fireplace. If done correctly, this will create a platform of ice you can stand on. Jump on the ice block and grab the badge.
Alternate method: Explosives and explosive spells, such as High Ingle or Throwblast, can be used to dislodge this badge from its perch, but it will take a lot of time to do so. If you use this method it's best to wait until the time of day in which the Duke sits in the Audience Chamber. That way you don't get arrested for utilizing High Ingle or a Throwblast.
As noted in the comments: "For any class: You can carry a barrel into the room and place it next to the table closest to the badge (the one the character on the screenshot stands on). Climb on the table and grab the barrel (this way you can get it up there as well). Next place the barrel as close to the badge as you can get it without making it fall. Climb up and grab the badge. You can also create a staircase using 3 barrels to reach the badge. Place 2 next to each other and then jump while holding the third to drop it on the closest barrel. Climb and retrieve!"
Warning: This quest must be done before, or during, the quest "A Warm Welcome." After the quest is completed, you will not longer be able to enter the Duke's Demesne.
Note: The same method could, theoretically, be used to acquire Badge of Vows 83.