Badge of Vows 97
Comments

4
2,978pages on
this wiki
DESCRIPTION
Badge of Vows 97 is a quest item from the From A Different Sky - Part 10 DLC. Merely picking it up satisfies the goal needed to complete the quest.
---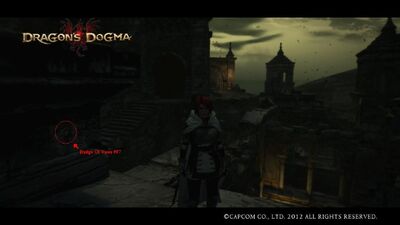 LOCATION
Badge of Vows #97 is located in the Bluemoon Tower. You will need to use Double Vault or Levitate to reach the platform from the staircase near where the Griffin fight starts. After reaching this platform you will need to make another leap across the shattered walkway to reach the badge.
ALTERNATE METHOD
If you defeated the Griffin before it fled to the Bluemoon Tower.

You will need to use levitate

Enter Bluemoon Tower (may want to kill everything on your path). Go up.
Go through the Gate (not the door for it will be locked).
Jump on the 1st ledge to your left when climbing up the stairs.
Take a running jump, wait a second then Levitate to the pillar ledge ahead and below. (have plenty of health for you may 'splat' when you land).
Follow the ledge to the end pillar corner.
Jump down in the lower ledge in front of you. Badge will be in the pillar behind you.