Berserkin is armor available in Dragon's Dogma.
Description
Edit
"Women's light armor infused with magick enough to drive anyone to a frenzy. None can confirm its otherworldly origin."
Part of the Berserkin Set - probably the most revealing and only pink armor set.
Usable By
Edit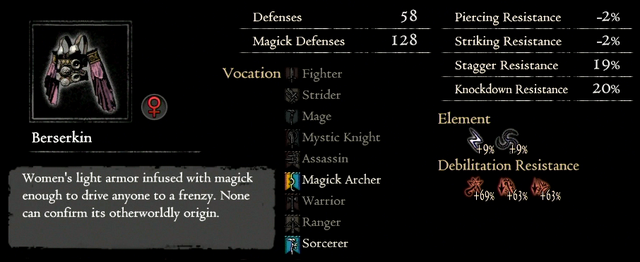 Enhancement Item Locations
Edit
The base adds to strength and magick is respectively an additional +3 and +10, which can be increased if either or both strength- and/or magick-multiplying augments are equipped on the character, such as Clout, Vehemence, Acuity, Attunement, Bloodlust, Ferocity, Exhilaration, Equanimity, Opportunism and/or Autonomy. Note that some of these augment effects are conditional depending on the Arisen's environment and state of health or even the selected skill.

The effect of these augments will also vary depending on whether the player is playing Dragon's Dogma or the Dark Arisen version of the game, as some of them have different effects depending on which version of the game is being played.
Ad blocker interference detected!
Wikia is a free-to-use site that makes money from advertising. We have a modified experience for viewers using ad blockers

Wikia is not accessible if you've made further modifications. Remove the custom ad blocker rule(s) and the page will load as expected.