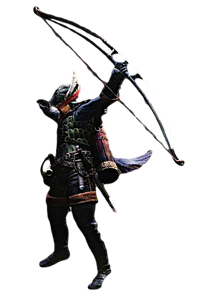 Bows are a group of long-range, projectile weapons that are primarily used by Striders, Rangers and occasionally used by Assassins and Magick Archers, who utilize a unique type of bow, called a Magick Bow that can harness the user's raw magickal energy into an arrow capable of homing in on targets.
Unlike traditional games, Bow strength is calculated through the user's Strength stat or Magick Attack stat for Magick Bow users.
Bows do not require arrows to function, albeit a variety of special arrows can be found throughout Gransys.
Shortbow skills are primarily centered around firing quickily, giving arrows more power or firing multiple shots. A shortbow's damage output is at its best when used at close range.
Longbow Skills are primarily based around powerful shots and sniping foes from afar. They fire at a slower rate than their cousins, but in return are more powerful, more accurate and can hit targets from further distances. A longbow's damage output is at its best when used at long range.
Magick Bow Skills are primarily based around homing projectile attacks. All of these attacks are ranged, and therefore should be executed further away from enemies. They also have their own element and are unaffected by enchantments.
Different types of Bows
Edit
All Bows are listed with dragonforged stats and are sorted from strongest to weakest using the strength and magick stats combined.