The Catacombs
Location Info
The Catacombs is a location in Dragon's Dogma.
See also
An ancient burial chamber of considerable size. Home to the Undead and the meeting place of Salvation.
The Catacombs is a three level underground burial chamber dungeon. The Catacombs has multiple exits, but the main entrance is to the north of Deos Hills. Scouting around Gran Soren will reveal The Catacombs' secondary access points which are blocked and must be unbarred from the other side. These entrances are not used to enter the Catacombs for the first time. The Catacombs may be explored at any time, even before the quests Seeking Salvation and Rise of the Fallen.
Related quests
Edit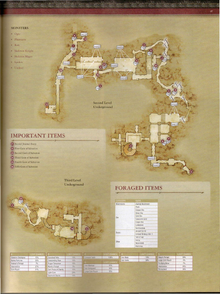 Loot (refer to map above)
Edit