Dark Arisen: Request Board Quests
Category page
Talk

0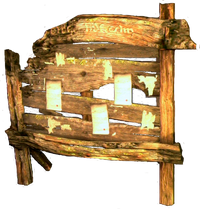 A Request Board offers quests within the realms of Bitterblack Isle and the deep Labyrinth in Dark Arisen. Some quests offered within these boards will also take the Arisen's adventure back to the area of Gransys as well. Request boards show more signs of cosmetic damage but provide the same concept of that of the traditional Notice Boards in Gransys.
Request Board Locations:
Subcategories
This category has only the following subcategory.
Pages in category "Dark Arisen: Request Board Quests"
The following 26 pages are in this category, out of 26 total.
A

B

D

E

H

I

S

T

T cont.

V
Ad blocker interference detected!
Wikia is a free-to-use site that makes money from advertising. We have a modified experience for viewers using ad blockers

Wikia is not accessible if you've made further modifications. Remove the custom ad blocker rule(s) and the page will load as expected.