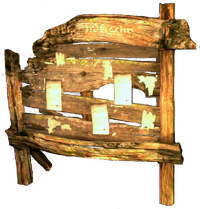 A Request Board offers quests within the realms of Bitterblack Isle and the deep Labyrinth in Dark Arisen. Some quests offered within these boards will also take the Arisen's adventure back to the area of Gransys as well. Request boards show more signs of cosmetic damage but provide the same concept of that of the traditional Notice Boards in Gransys.
Request Board Locations:
Pages in category "Dark Arisen: Request Board Quests"
The following 27 pages are in this category, out of 27 total.