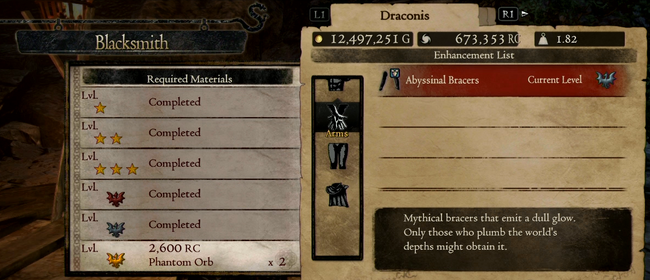 Rarifying is a process in Dragon's Dogma: Dark Arisen that utilizes particular items and Rift Crystals to upgrade equipment beyond the level of Dragonforged. This service provides equipment an additional 2 levels of upgrade. Rarifying services are provided by Barroch. Equipment must be upgraded to a Dragonforged level before it can be rarified.
The two levels are as follows:
Silver Rarifying

Gold Rarifying

Note: Another common term used among players for "Rarifying" is Silver and Gold Dragonforged.
Rarified items cannot be gifted to support pawns.
Rarifying Items
Edit
To Rarify equipment, speak with Barroch on Bitterblack Isle.  Barroch can Enhance equipment like Caxton or Reynard, but to Rarify equipment further the equipment must already be Dragonforged.
There are two levels of Rarifying, Silver and Gold, Gold being the highest level. Similar to upgrading equipment, specific materials must be acquired in order to Rarify equipment.  Instead of Gold payment, Rift Crystals must be spent in order to Rarify as well.
Rarifying equipment must be done one step at a time.  The Arisen may not skip the Dragonforged or Silver Rarifyied step even if the Gold Rarify materials are already obtained, unlike regular Enhancing where the Arisen can enhance directly from zero to three stars.  In order to Gold Rarify equipment, the Arisen must first Dragonforge it, then Silver Rarify it, then Gold Rarify it.
Pages in category "Rarifying"
The following 101 pages are in this category, out of 101 total.
A

B

C

D

E

F

F cont.

G

H

I

J

K

L

M

N

N cont.

O

P

R

S

T

V

W
Ad blocker interference detected!
Wikia is a free-to-use site that makes money from advertising. We have a modified experience for viewers using ad blockers

Wikia is not accessible if you've made further modifications. Remove the custom ad blocker rule(s) and the page will load as expected.