Chamber of Fate
Comments

44
2,958pages on
this wiki
Chamber of Fate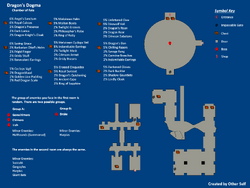 Location Info
Chamber of Fate is a location in Dragon's Dogma. One of the chambers in The Everfall. It is located under the Chamber of Lament.
Room Details
Edit
The first room that you enter will be a boss arena. There is a 10% chance to have to fight a Drake along with 8-10 Snow Harpies. However, the room's main spawn will be one of the toughest challenges in the game: a Chimera, a Gorechimera and a Lich at the same time. If you re-enter the room after killing the Drake but before it respawns (7 days), the game will still roll the dice and you will get either an empty room where the drake was supposed to spawn, or the deadly trio.
It has also been reported that when clearing the room of the three bosses but before fighting the drake, the chance of re-entering and encountering the drake lowers dramatically. Take this into consideration if you wish to farm dragons.
The room following the boss arena contains Gargoyles, Harpies, and Succubus.
This chamber is infamous due to its extreme difficulty, second only to the online Ur-Dragon. If you are to venture into here, best be well prepared.
Since this chamber's difficulty is largely dependent on the number of enemies it is best to focus on them in the following order: the Lich should be your primary target. It has low defenses and it summons Hell Hounds and uses other magics. Once the Lich is down change your focus on the Chimera. Finally take down the Gorechimera. Once the Lich is down the fight should be relatively easy. This room should prove extra difficult for Warrior or Fighter vocations since they have no access to ranged attacks.