Chasing Shadows
Comments

61
2,976pages on
this wiki
Chasing Shadows is a quest available in Dragon's Dogma.
Objective
Edit
"Salvation reportedly has a spy inside the castle at Gran Soren. Mason asks you root out the cultist."
Becomes available after completing the quest A Matter of Myrmidons. Given by Mason, who should be hanging around Fountain Square in Gran Soren.
Once accepted, pass between the Knight's Manor and Fournival Manor in the Noble Quarter at night.
Walkthrough
Edit
1. Wait/rest until nightfall after getting the quest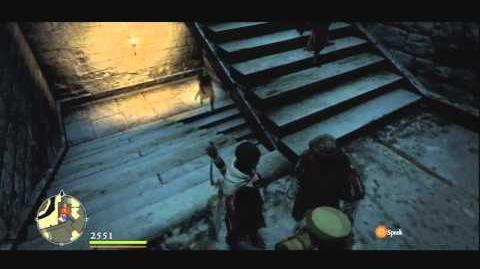 2. Go to the Noble Quarter (in front of castle)
3. Pass by the northern corner of the Knight's Manor
4. A cutscene will appear
5. Trail the suspicious person
Note- Make sure not to get too close to the person you're trailing.
Note - There are multiple short non-dialogue cut scenes while you trail the mystery man. You will have to run to catch up after these. The nice part is, the mystery man is the only person walking through this area of the city carrying a lantern so he's easy to spot.
6. A cutscene will play when you reach the final destination
7. Report to Arsmith at the Alehouse.
8. Leave Gran Soren and return, otherwise house will stay abandoned.
WARNING: If you watch the duke before getting/doing this quest Mason will disappear from Gran Soren and make his way to The Abbey making this quest impossible to GET or COMPLETE. Also blocking the opportunity to open Madeleine Shop and the quests around Madeleine.
Note:  Occasionally for me, Mason will not appear straight away to offer this quest, a great deal of the time I either have to rest or I have to do another quest (That will cancel this one out). I have also experienced a problem with the final short cut scene during this quest, more often than not it fails to occur, making the guest unable to be completed, I am unsure if anyone else has had this problem (since I am unsure of the cause, it could be any number of things, one such thing just being my copy of the game), but if it has happened to anyone else, I can only offer this advice, select "Return to last checkpoint" or "Quit without saving" from the Save/Quit section of the pause menu and simply try again until it does (it took 10+ tries for me this morning until it actually worked).