Chilling Razors is a weapon available in Dragon's Dogma.
Description
"Daggers of such deathly cold that even the blood they draw is frozen in an instant. Their ice enchantment is everlasting."
These daggers can be seen as the ice-enchanted version of the Signs of Valor due to their identical design.
Usable By
Stats
Upgrade
Level
0

1

2

3

Upgrade
Requirements
N/A
17,900 G
55,700 G
Frozen Holy Water x5
171,700 G
Glacial Rectrix x10
Click here for
requirements
6,200 RC

9,700 RC

Strength
235
249
263
279
313
358
446
Magick
384
407
430
456
511
628
730
Slash Strength
100%
Bludgeoning Strength
0%
Stagger Power
235
235
239
258
286
339
392
Knockdown Power
235
235
239
258
286
339
392
Element
Ice
Debilitations
-
-
-
-
-
-
-
Weight
1.04
1.04
0.99
0.88
0.78
0.78
0.78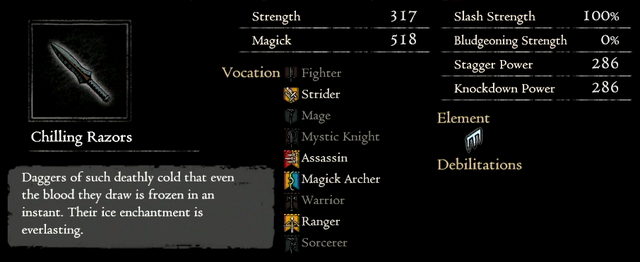 Location
Enhancement Item Locations
Notes
Gallery
Videos