Chimeric Armor Set is armor available in Dragon's Dogma.
Description
"Sturdy armour most notably worn by Skeleton Lords."
Core Set Piece
Accessory Pieces

The Chimeric Armor Set is a very heavy armor set usable by fighters, warriors and mystic knights.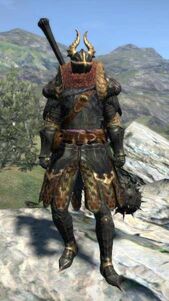 The full face and hand protection, low magic defense, and high weight suggest use by warrior vocations.
A wide variety of weapons can be used with the set, though the Steel Urchin is a visual match - the urchin will tend to be outclassed before the armor is.
The Beastly Mantle complements the armor, softening the neck outline, whilst fitting within the shoulder pauldrons. Its resistances are a perfect match for the Chimeric set, and adds torpor resistance as well.
For undergarments the heavy Chain Mail Set is one choice, other semi armored undercloths can also be used - such as the Brigandine Jerkin.
Skeleton Lords use a variation of this armor, with a Knight's Honor shield and a unique sword similar to a Broadsword.
Stats
Location
Notes