Come to Court is a quest available in Dragon's Dogma.
Objective
Edit
Your feats in the Wyrm Hunt have earned you an audience with Duke Edmun himself. Perhaps he will offer missions of greater merit.
The quest Come to Court becomes available after completing at least 2 Wyrm Hunt Quests. To start the quest go speak with Ser Maximilian and select: "hear the duke's directive".
Visit the Duke
Meet with His Grace in the castle's audience chamber.
See to the Royal Orders
Your audience with the duke was oddly solemn. Speak with His Grace's agent to learn of the Royal Orders you may now undertake.
Quest Successful
You met with the duke and learned of the Royal Orders. Quest reward received.
Walkthrough
Edit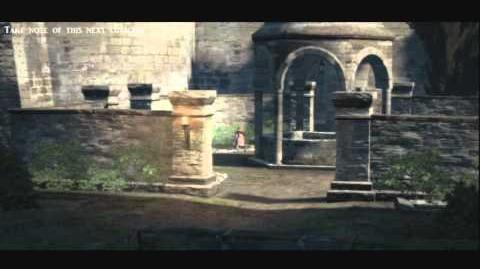 In order to get this quest you must speak with Ser Maximilian in the Gran Soren Noble Quarter and choose the option "hear the duke's directive". This will become available when at least 2 Wyrm Hunt quests have been completed. Even though this quest technically isn't a Wyrm Hunt quest it is still required to have the Wyrm Hunt License in your inventory when speaking with Ser Maximilian.
Choosing the option to meet the duke will cancel all other Wyrm Hunt Quests. If you didn't complete them all, but wish to do so then leave this quest for last. For other quests being canceled see the section Quests Unavailable
Visit the Duke
Edit
Starting this quest opens the Duke's Demesne. After entering you will find your pawns are not with you. Pawns are not allowed inside the castle by order of the Duke. You may explore the castle gardens to find some chests, but there isn't much you can do here at the moment. Enter the castle through the front gate and proceed to trigger a cutscene with Feste and the Duke.
See to the Royal Orders
Edit
After the cutscene you can exit the castle. As you walk towards the gates the camera pans to the right focusing on Aelinore tending to her gardens.
There's an optional part here, but it will trigger a questline later. If you wish to do Aelinore's quests go to her now. Approaching her will trigger a cutscene. This cutscene will trigger the questline and no further speaking with her is required. If you want you may speak with her a few times more until she takes off the hat Feste gave you. This will increase affinity with her.
When you're done, approach the castle gate to trigger another scene. Here you learn that you can now take Royal Order quests when speaking with Aldous the Duke's chamberlain.
Quest Successful
Edit
After speaking with Aldous you may re enter the castle to get a Royal Order quest. It is also possible to start the first part of Aelinore's side quests called Arousing Suspicion.
Completing Come to Court opens more side quests such as Witch Hunt, Rise of the Fallen and Idol Worship.
If you accept this quest, you will forfeit any other Wyrm Hunt quests that Ser Maximilian gives up to this point.
Speaking with Aelinore until she removes Feste's hat will increase her affinity.
After accepting this quest, you will not fail any bounty board quests. Only other Wyrm Hunt quests as said above.
The following quests must be completed before talking with Ser Maximilian and selecting "Hear the Dukes directive" or they will be cancelled and you will be unable to complete said quests:
Reaper's Scorn
Any Wyrmhunt Quests not yet completed
THIS SECTION REQUIRES CONTENT!

Please help Dragon's Dogma Wiki
by contributing.