Crimson Armor Set is armor available in Dragon's Dogma.
Description
Edit
"Armor decorated a bright, burning red that seems not of this world."
Core Set Pieces
Accessories
The Crimson Armor Set is to the same design as the Chimeric Armor Set - as such the Beastly Mantle is an option for a cape. Alternative undergarments and cloak for this set are the fabric parts of the Alchemical Set which not only are a similar red color, but complements the resistances as well, especially for those facing down species of chimera.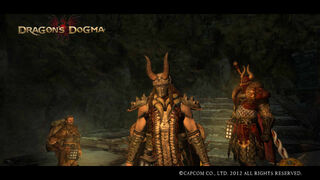 Ad blocker interference detected!
Wikia is a free-to-use site that makes money from advertising. We have a modified experience for viewers using ad blockers

Wikia is not accessible if you've made further modifications. Remove the custom ad blocker rule(s) and the page will load as expected.