Cursed Carving
Item Info

Base Weight

4.00

Type

Other
Cursed Carving is an item available in Dragon's Dogma.
Description
Edit
"A seemingly ensorceled statue. Its eerie countenance seems ready to emit a foul poison at any moment."
"A combinable material. A rarity. Favored by members of the Faith."
The Cursed Carving can be found west of Gran Soren in the Wilted Forest, outside The Abbey's western wall in the middle of a Loneflower circle (pictured right and below. Additionally, for players unable to find it, two ogres will appear at this location next to the Abby at night.)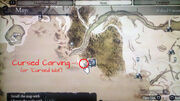 Another Cursed Carving can also be found in the Wilted Fortest atop a large stone formation that is near the area of the Chimera. Look for the highest rock formation in that region and climb it. At its peak, near the branch, should be the carving.
A Cursed Carving can be found in either of the chests outside the Abbey, near to where the first Cursed Carving can be found.
Enhancing
Edit
Combining
Edit
Component to