Cursed Light is a weapon available in Dragon's Dogma: Dark Arisen.
Description
"A sword that bears the telltale scars of reforging, as well as the mark of a bladesmith who once served the clergy. It shimmers with holy enchantment."
Usable By
Stats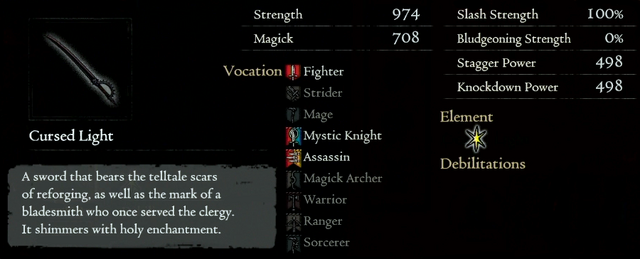 Location
Enhancement Item Locations
Notes
This weapon is the strongest magic sword available and bears a Holy enchantment.

07:45

Fighter with Cursed Light vs Living Armor. One on one duel. No damage.

Cursed Light is a split damage weapon that attacks both physical and magickal damage thresholds. Arming a character with a high magick stat with this weapon can be very effective since the magickal melee damage threshold is significantly lower than the physical one.
Although they are NOT the most powerful primary weapons in the game, Holy enchanted weapons like Ascalon, Heaven's Key, Cursed Light, Totem Mace, Dwells-In-Light, and Angel's Fist are arguably the most useful and versatile weapons to wield since they damage EVERY creature type in the game (except Saurian Sages, Giant Saurian Sages,  Death and the Dark Bishop) and are VERY effective against ghost enemy types, Undead, Skeletons, Living Armor and the Ur-Dragon. For Death and the Dark Bishop specifically, one can bring along a straight physical damage weapon like Framae Blades, Devilsbane, etc.
Minimum character level required for use without stamina penalty: 46. Any character wielding this sword below level 46 will experience increased stamina loss when using regular attacks, skills, or running. Just having Cursed Light equipped will cause this effect, even when using secondary weapon skills with a weapon that has no penalty.