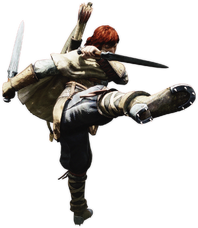 A pair of small blades wielded by Striders, Rangers, Assassins and Magick Archers. They have a short range, but are quick to strike and they provide flexible movement. They are the main close combat option for bow-users and do Slash damage.
Dagger skills are primarily based around quick and flexible attack combos. Not meant to be strong weapons like the hammers and longswords.
Daggers List
Edit
All daggers are listed with dragonforged stats and are sorted from strongest to weakest using the strength and magick stats combined.
It is worth noting that Daggers are the only weapon type that has a permanently enchanted weapon of every elemental attribute, thus making the classes that can wield them (Strider, Ranger, Assassin, and Magick Archer) even more versatile in combat against enemies of varying weaknesses.