Dalmatica is armor available in Dragon's Dogma.
Description
Edit
"A robe for those possessed of boundless devotion to the magickal arts. Useful, if rather heavy."
Historically a 'Dalmatica' was an ample sleeved striped tunic worn by women, later adopted for use by priestly castes and magicians. A dalmatica is worn by Kings and Emperors at their coronation.
An element of the Raptor Armor Set. Also worn by Salomet.
Usable By
Edit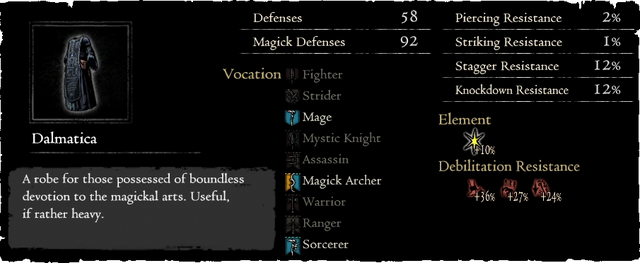 Locations
Edit
Enhancement Item Locations
Edit
The term Dalmatica ultimately derives from a sleeved tunic worn by an ancient people of the Dalmation coast on the Adriatic sea in Europe. The dog breed "Dalmation" also comes from the same region.
Ad blocker interference detected!
Wikia is a free-to-use site that makes money from advertising. We have a modified experience for viewers using ad blockers

Wikia is not accessible if you've made further modifications. Remove the custom ad blocker rule(s) and the page will load as expected.