Deep Trouble
Comments

5
2,975pages on
this wiki
Deep Trouble is a quest available in Dragon's Dogma.
Objective
Edit
"Unnerving snarls from Cassardis' old well startled a soldier seeking refuge inside. Investigate the source of the sounds."
Investigate the Well
Enter the well in Cassardis and explore its depths.
Slay the Monsters
Set upon the saurians nesting in the well.
Report back to Poll
Inform Poll of Cassardis that you have slain the well's foul inhabitants.
Quest successful
The well is cleared and safe, thanks to you.
Walkthrough
Edit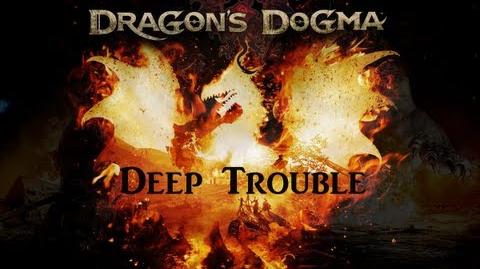 Poll will offer this quest after you have visited the Encampment and return to Cassardis. This quest is given by Poll, the guard standing next to the well near the town gate in Cassardis. When spoken to, Poll tells you he heard strange sounds coming from the well and is too frightened to investigate for himself.
Upon descending, you will find giant rats. They are harmless, but if you have a quest which requires rodent-killing, this is a good place to make progress. As you continue, ignore the small path to your right which leads to a bridge. Your destination is straight ahead a bit farther. You will come to a small ledge with rocks and water below. Before jumping down, look around and note the large lizardmen. These are called Saurians and they can be extremely dangerous if they surround you. There are good number of them in the upcoming battle.
Ranged: If you have chosen Strider or Mage, do not jump into this potential death-pit. Instead, stay on the ledge to provide ranged support. Use the "Go" command to send your pawns into batte. Aim for the Saurians' weak spot, their tails. Once a tail has been damaged enough, it will be severed and the Saurian's defenses will be greatly reduced. This will make the battle substantially easier. After severing one tail, leave that enemy for your pawns and aim for the next tail. If one of your pawns should be KO'd during battle, hop down and revive him/her, as you will need their help on the ground.
Melee: If you have chosen Fighter, your job is the same, just done at close range. Hop into battle, remove all the tails, let your pawns play clean-up.
After the battle, be sure to pick up as many materials as possible. Saurian Tails and Poison Sacs are very valuable, as they can be combined to make powerful items or armor enhancements or sold for a good sum of gold.
Follow the path leaving the area of battle until you reach a closed door on your left. Here, you will be engaged by Bandits. This battle should be simple compared with the Saurians, so slay them all, proceed into the room from which you were ambushed, and get your well deserved loot. After that, you're home free; just follow the tunnel to the exit. You will find yourself just northwest of The Encampment.