Deeper Trouble is a quest available in Dragon's Dogma.
Objective
Edit
"The villagers yet fear the well. Root out the remaining monster nests to end the threat for good and all."
Destroy the Saurian Nests:

Delve into the well and purge away the saurian nests deep inside.
Report Back to Rorric:

Inform Rorric of Cassardis that you have cleared the well of all monsters.
Quest Successful:

The well is now completely safe to use once more. Quest reward received.
Walkthrough
Edit
Upon re-entering Cassardis seven in-game days after completing Deep Trouble you should hear a voice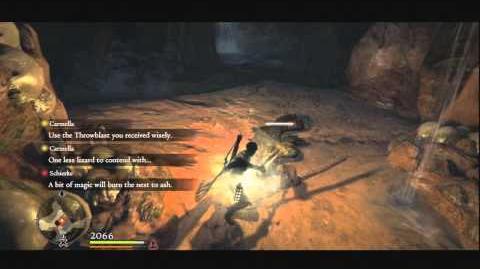 calling from the town well. Just inside you will find
Rorric
, who will activate the quest.
Proceed to the Emperor's Pillar chamber. The boulder blocking the western passage is gone now, so proceed in that direction. After dispatching the saurians, ensure your party is healed before attacking the egg clutches, located in the chamber marked with a red circle. This will soon trigger a battle with a giant saurian and several regular saurians. Once you've won, continue destroying clutches until the quest updates, and return to Rorric at the well entrance.