Diabolic Shield is a weapon available in Dragon's Dogma: Dark Arisen.
Description
"An enchanted shield bound with a mesh of secret magicks, they say it has the power to transform its wielder's despair into fortitude."
Notes
This is the most powerful shield available to Mystic Knights in the entire game.
The Diabolic Shield has the highest Stagger and Knockback power among shields.
All Bitterblack Weapon Lv.3s have a minimum level requirements of level 51. Until the level requirement is met, using even basic core attacks, weapon skills and sprinting will consume unusually large amounts of stamina. In addition, stamina will replenish at a much slower rate. Simply having a Diabolic Shield EQUIPPED while the Arisen uses a Rusted Sword will consume considerable stamina.
Usable By
Stats
Upgrade
Level
0

1

2

3

Upgrade
Requirements
N/A
94,000 G
263,200 G
Abyssal Eye x2
752,000 G
Macabre Eye x2
Click here for
requirements
8,100 RC
Maleficent Heart x6
16,100 RC
Scythe Shard x1
Strength
440
466
497
528
567
587
690
Magick
810
858
915
972
1044
1127
1232
Slash Strength
0%
Bludgeoning Strength
100%
Stagger Power
470
470
479
495
540
569
655
Knockdown Power
470
470
479
495
540
569
655
Element
-
Debilitations
-
-
-
-
-
-
-
Weight
2.91
2.91
2.76
2.47
2.18
2.18
2.18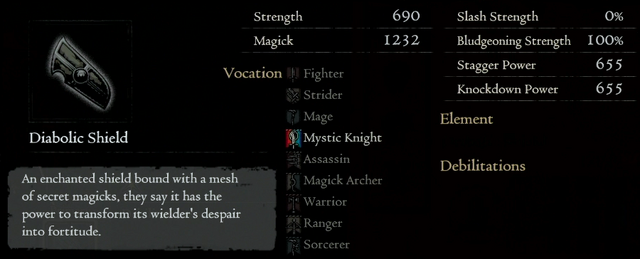 Location
Enhancement Item Locations