Dragonroar is armor available in Dragon's Dogma.
Description
"A mask depicting a roaring dragon's maw."
Usable By
Stats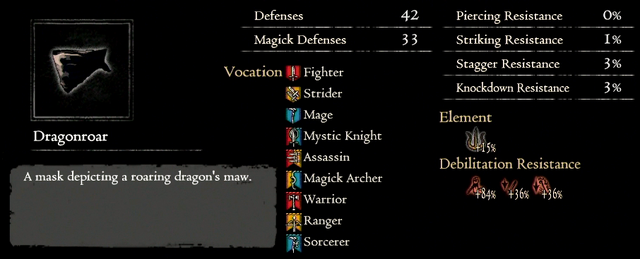 Location
Enhancement Item Locations
Notes
Dragonroar provides the best total bonus to both Strength and Magick of all head gears.
The base add to magick and strength is respectively an additional +8 and +8, which can be increased if either or both strength- and/or magick-multiplying augments are equipped on the character, such as Clout, Vehemence, Acuity, Attunement, Bloodlust, Ferocity, Exhilaration, Equanimity, Opportunism and/or Autonomy. Note that some of these augment effects are conditional depending on the Arisen's environment and state of health or even the selected skill. These augment effects can also differ depending on whether Dragon's Dogma or the Dark Arisen version of the game is being played.
Gallery