Duskmoon Tower is a location in Dragon's Dogma: Dark Arisen.
Duskmoon Tower is an area located on Bitterblack Isle. It is accessed from the Garden of Ignominy.
Before the first defeat of Daimon, it is a mostly safe area and only contains a handful of mobs (crows, rabbits, deer, snakes, and spiders). It is also the area where Barroch will make his first appearance. There are a number of chests and ore deposits, as well as eight unique doors that require Moonbeam Gems to open. All eight are needed to open all of the doors.
After the initial defeat of Daimon, either a Firedrake (accompanied by Hellhounds) or a Thunderwyvern (with Gargoyles) will spawn. There is also a chance of a Cursed Dragon spawning.
Rancid Bait Meat set in Duskmoon Tower will typically bring a Cursed Dragon.
Characters
Edit
Related Quests
Edit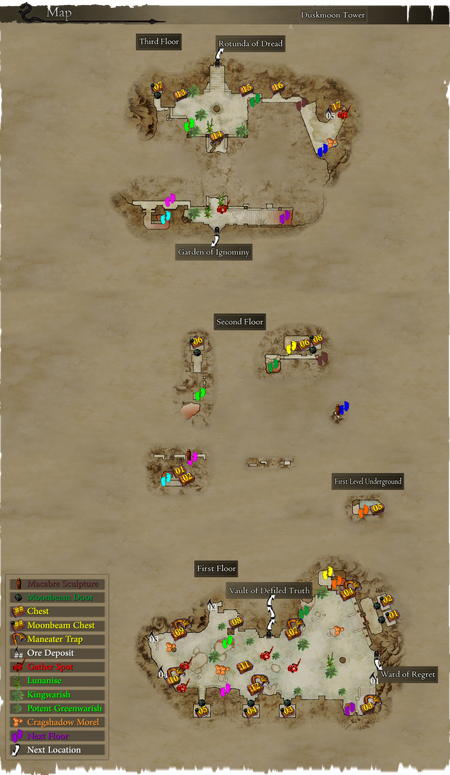 Refer to map and map key for all locations.
Moonbeam Gem Door Chests
Quest Items
Chest Loot
Chest #01
| Pre-Daimon Loot | Post-Daimon Loot |
| --- | --- |
| | |
Chest #02
| Pre-Daimon Loot | Post-Daimon Loot |
| --- | --- |
| | |
Chest #03
| Pre-Daimon Loot | Post-Daimon Loot |
| --- | --- |
| | |
Chest #04
Chest #05
Chest #06
Chest #07
Chest #08
| Pre-Daimon Loot | Post-Daimon Loot |
| --- | --- |
| | |
Chest #09
| Pre-Daimon Loot | Post-Daimon Loot |
| --- | --- |
| | |
Chest #10
| Pre-Daimon Loot | Post-Daimon Loot |
| --- | --- |
| | |
Chest #11
Chest #12
Chest #13
Chest #14
Chest #15
Chest #16
Chest #17
Gathering Spots
Gathering Spot #1
Up to two:
Gathering Spot #2
Gathering Spot #3
Gathering Spot #4
Gathering Spot #5
Up to two:
Unchanging Loot in a Specific Location
First Floor
Third Floor
Can Be Found in Breakables
Gathering Spots are Unspecified:[Specification Needed]
Mined from Ore Deposits
Ore Deposit #5
Points of Interest
Edit