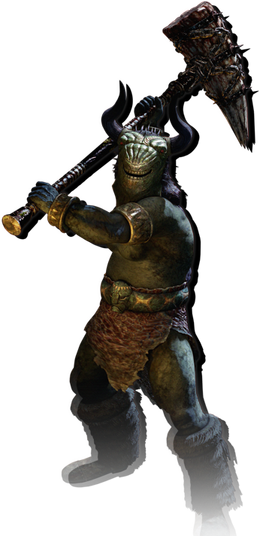 An Eliminator is an Enemy in Dragon's Dogma: Dark Arisen.
Overview
The Eliminator is a huge humanoid resembling a minotaur found on Bitterblack Isle. It stands taller than the Arisen, though smaller than an Ogre, and is scalable.
The Eliminator's attacks consist of many large-radius hammer blows, and they are much faster than one would expect. Eliminators don masks, Fur Greaves and Cursed King's Belts, and are armed with a Cyclops Sigil or Devil's Nail.
Variants
There are two types of Eliminators: The first type wears the Persecutor's Mask and is dark skinned. The second wears the Tormenter's Mask and has a much lighter skin colour. The second version has the same amount of health but can take more hits. The light skinned ones appear only after Daimon is killed for the first time. Both variants may drop their masks when killed.
Information and Stats
Stats
Health
Attack
Defense
Magick
Attack
Magick
Defense
Weight
48,000
3,500
950
150
390
 ??
Relative
Damage
Slash
Bash

Fire

Ice

Thunder

Holy

Dark
50%
50%
100%
100%
100%
100%
100%
Sources: Dragon's Dogma - ドラゴンズドグマ & Dark Arisen (www10.atwiki.jp) and in-game testing.
Attacks
Attack
Type
Description
Indomitable Lunge
Phys
Charges forward with its weapon extended, knocking down any caught in its path.
Indomitable Lash
Phys
Channels its strength into a devastating hit that grows in power with the amount of time spent preparing. Able to withstand attacks while charging.
Arc of Deliverance
Phys
Channels all its power into the ultimate blow.
Foot Stomp
Phys
Places a foot on a knocked-down target and pins them to the ground while simultaneously charging a very powerful downward strike which can prove fatal unless interrupted or successfully evaded (wiggle L-stick).

This move can catch invisible Arisen.

Hammer Frenzy
Phys
A series of wild hammer swings in front of and around the Eliminator.
↑

Arc of Deliverance is usually followed by Foot Stomp.
Tactics
Offensive
Defensive
The Eliminator's bull charge (when it lowers its head to charge) can be cancelled and staggered by a strong headshot.
Other attacks such as its Arc of Deliverance head stomp attack can also be stopped by a powerful attack to the head.
Many attacks can be Perfect Blocked including the Lunge Attack.
The Eliminator's stomp attack :

The stomp attack is usually initiated when standing too close to an Eliminator, directly in front of them.
If knocked down, Instant Reset can be used for recover and then dodge roll away.
The stomp is survivable with more than 1400 Physical defense and 4300 HP.
The Egression augment allows for easier escapes, halving the effort needed to break free.

Pawns can rescue the Arisen by stunning the Eliminator with attacks.
Pawn Bestiary Knowledge
In addition to witnessing these techniques, it is necessary for Pawns to participate in killing 60 Eliminators either with their own Arisen or while travelling with others.
More information can be found on the Bestiary page.
Gallery
ps3

xbox360

If an Eliminator and its target are on separate elevation levels when the Eliminator attacks with Foot Stomp, the attack will not hit the character as the hammer can only affect characters on its own elevation.