Fathom Deep is a quest available in Dragon's Dogma.
Objective
Edit
"The dark void of the Everfall seems without end. And yet you feel compelled to press on to some final destination."
Details/Walkthrough
Edit
Gather the Stones
Edit
Follow the pawn's instructions and collect the necessary number of Wakestones . (You need 20) Quince starts you off by giving you 1 and a Ferrystone so you can return to the surface.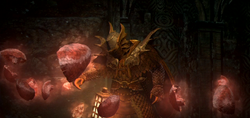 Everfall Chambers:
- Absence - Hellhounds, Grim Goblins, Skeleton Sorcerors, and Geo Saurians
- Anxiety- 1 Lich, Undead Warriors, Skeletons & Skeleton Mages
- Apprehension - 2 Cockatrices & Grim Goblins
- Confusion - Evil Eye
- Distress - Dire Wolves, Snow Harpies, Geo Saurians & 1 Wyrm
- Estrangement - Golem, Ogre & Cyclops
- Fate - Hell Hounds, 1 Drake & Harpies or 1 Gore Chimera, 1 Chimera & 1 Wight
- Hesitation - Arc Hydra
- Hope - Gore Chimera & Hellhound
- Inspiration - Phantoms & Undead
- Lament - UR Dragon (The Messiah Trophy)
- Remorse - Golem & Cyclops
- Resolution - Stout Undead, Undead, Undead Warrior, 3 Ogres, Geo Saurians, 1 Saurian Sage & Cockatrice
- Sorrow - Grim Goblins, Evil Eye & Tentacles
- Tragedy - 1 Phantasm, Succubi & Gargoyle
- Woe - Liches & Undead
Deliver the Stones
Edit
Ferry the gathered Wakestones back to Quince in the The Everfall
Jump into the Stones
Edit
Jump into the rift created by the Wakestones gathered.
If you do not plan to either end the game or move on to New Game + DO NOT enter the portal made from the riftstones. Upon entering wakestone's portal you are stuck at a point of no return. Both Retry and Retry from Last Checkpoint will place you at the point after entering the portal. This effectively makes the Everfall and a lot of post game content inaccessible and you will be forced to play through the entire storyline in New Game + in order to get to the Everfall again.
Contrary to the early part of the game, gathering the stones is much easier in the Everfall. Each big monster drops 2 to 3 Wakestones and smaller monsters each have a chance of dropping a fragment. Furthermore, chests have a chance of containing either a Wakestone or a fragment, and fragments can occasionally be found inside crates.
For those able, the Ur-dragon in the Chamber of Lament drops exactly 20 wakestones when killed. Although still challenging, fighting it offline is easier.