Garden of Ignominy is a location in Dragon's Dogma: Dark Arisen.
Description
The Garden of Ignominy is the first interior area of Bitterblack Isle. Despite being relatively safe it can still send low-level Arisen and their Pawns straight to their doom.
The Garden of Ignominy contains a large courtyard area where moonlight shines down upon an intricate statue. Lions are a decorative theme as they are present in the courtyard's central statue and in the first hallway. There is also a large lion relief on the wall approaching the stairs leading down to the first floor.
The Garden has three levels - from the Bitterblack Isle Harbor its is entered on the Second Floor; there are a variety of ways down to the First Floor which leads to a large courtyard - usually containing a substantial foe, or group of enemies.
From the courtyard the First Level Underground door exits leading further into Bitterblack Isle through to the Duskmoon Tower.
Enemies
Pre-Daimon
Initially the garden contains Wargs, Snakes, Spiders, and Hobgoblins as well as a Cyclops in the courtyard.
There is also a chance for a Garm to randomly appear, as well as Death which will almost certainly appear on the second visit to the courtyard, after the Cyclops has been vanquished.
Post-Daimon
Enemies appearing here post daimon include groups of Greater Goblins, Goblin Shamans, and Leapworms, as well as Giant Saurian, Sulfur Saurians, and Giant Sulfur Saurian, and Spiders and Sirens. A Maneater may appear from chests.
A Gorechimera may appear in the courtyard.
If Greater Goblins appear then three Garms may also be found here; alternatively, if Sulfur Saurians were found the Death is likely to appear.
Loot
For a full annoted list of all loot (and locations) for creatures, chests, breakables, minable ores, gatherable materials and common items available pre-Daimon see List of Garden of Ignominy Loot (Pre-Daimon).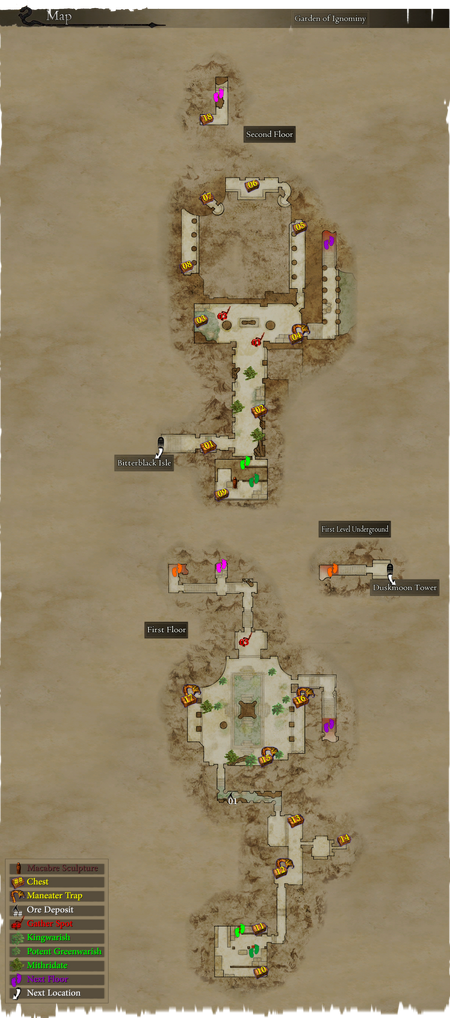 One Macabre Sculpture can be found in the Garden.
Minor items may be found throughout the Garden, both lying about, and in breakable objects such as crates - these are generally low value items such as Ceramic Jugs, or Sour Scrag of Beast, though some better items such as Angel's Periapt, or Dragon's Spit. A few gather spots yield generic tools and occasionally arrows or throwing items as well as a chance of a smaller kind of Rift Crystal.
On the floor of the Garden grow several plant types including Potent Greenwarish, Kingwarish, and Mithridate. Ore deposits yield Alluvial Yore-Ore, Copper Ore, Hunk of Platinum, or Lava Rock.
Chest loot
Refer to map for all chest locations.
Chest
Loot
1
Pre-Daimon : Harspud Sauce, Light-Cure, Blast Arrow x10, Demon's Periapt, Ring of Purpure, Silver Ring

Post-Daimon : Cockatrice Liquor, Font of Constitution, Giant Coin Pouch, Lordly Tonic, Ring of Argent

2
Pre-Daimon : Harspud Sauce, Light-Cure, Blast Arrow x10, Demon's Periapt, Ring of Purpure, Silver Ring

Post-Daimon : Cockatrice Liquor, Font of Constitution, Ring of Argent

3
Wakestone Shard

Pre-Daimon : Rift Fragment, Rift Crystal, Bitterblack Novelty Lv.1, Traveler's Hood

Post-Daimon : Rift Crystal(verify), Bitterblack Novelty Lv.1(verify), Lordly Tonic

4
Rift Cluster, Stone-Moss Poultice, Salubrious Brew

Pre-Daimon : Balmy Perfume

Post-Daimon : Balmy Perfume (verify), Maneater

5
Wakestone Shard, Bitterblack Novelty Lv.1

Pre-Daimon : Rift Fragment, Rift Crystal, Traveler's Hood

Post-Daimon : Rift Crystal (verify), Lordly Tonic

6
Liftstone

Pre-Daimon : Bitterblack Novelty Lv.1, Stilettos, Snagdaggers, Favored Flower, Silver Chestplate, Direwolf Cape, Feral Cape

Post-Daimon : Rift Bicrystal, Wakestone Shard, Bitterblack Novelty Lv.1 (verify), Wakestone

7
Bitterblack Novelty Lv.1

Pre-Daimon : Bitterblack Gear Lv.1, Brigandine Jerkin, Worker's Gloves, Violet Neck Wrap

Post-Daimon : Rift Bicrystal, Bitterblack Novelty Lv.2, Bitterblack Gear Lv.1 (verify), Violet Neck Wrap (verify)

8
Pre-Daimon : Bitterblack Novelty Lv.1, Bitterblack Gear Lv.1, Brigandine Jerkin, Worker's Gloves, Violet Neck Wrap

Post-Daimon : Rift Bicrystal, Bitterblack Novelty Lv.1 (verify), Bitterblack Novelty Lv.2, Bitterblack Gear Lv.1 (verify)

9
Pre-Daimon : Rift Crystal, Grievous Horns, Gossip's Mask, Bliaut, Mage's Shoes, Frozen Tomorrow (Rare), Helical Archistaff

Post-Daimon : Liftstone, Conqueror's Periapt, Angel's Periapt (verify), Demon's Periapt, Mage's Periapt

10
Kept Sour Ambrosial Meat, Kept Giant Fish

Pre-Daimon : Interventive, Kept Beast-Steak, Bitterblack Novelty Lv.1, Throatcutters, Chain Coif, Chainmail Bracers

Post-Daimon : Panacea, Throwblast, Bitterblack Novelty Lv.1 (verify), Bitterblack Novelty Lv.2, Grisly Skull, Dragon Knight's Helm, Coupled Headgear

11
Kept Sour Ambrosial Meat, Kept Giant Fish

Pre-Daimon : Interventive, Kept Beast-Steak, Bitterblack Novelty Lv.1, Throatcutters, Chain Coif, Chainmail Bracers

Post-Daimon : Panacea, Throwblast, Bitterblack Novelty Lv.1 (verify), Bitterblack Novelty Lv.2, Grisly Skull, Dragon Knight's Helm, Coupled Headgear

12
Pre-Daimon : Harspud Sauce, Light-Cure, Blast Arrow x10, Demon's Periapt, Chain Coif (verify), Ring of Purpure, Silver Ring

Post-Daimon : Giant Coin Pouch, Lordly Tonic, Font of Constitution, Liftstone, Angel's Periapt, Bitterblack Novelty Lv.1, Maneater

13
Kept Sour Ambrosial Meat, Kept Giant Fish

Pre-Daimon : Interventive, Kept Beast-Steak, Bitterblack Novelty Lv.1, Throatcutters, Chain Coif, Chainmail Bracers, Ring of Purpure (verify), Silver Ring

Post-Daimon : Panacea, Throwblast, Bitterblack Novelty Lv.1 (verify), Bitterblack Novelty Lv.2, Grisly Skull, Dragon Knight's Helm, Coupled Headgear

14
Pre-Daimon : Liftstone, Broadsword, Sylvan Bow, Novice's Coat, Laced Leggings, Rift Bicrystal, Bitterblack Gear Lv.2, Diadem, Extrinsic Waistguard, Ring of Ruby
15
Liftstone

Pre-Daimon : Bitterblack Novelty Lv.1, Stilettos, Snagdaggers, Favored Flower, Silver Chestplate, Direwolf Cape, Feral Cape

Post-Daimon : Rift Bicrystal, Wakestone, Bitterblack Novelty Lv.1 (verify), Maneater

16
Oak Leaf Oil, Pilgrim's Charm

Pre-Daimon : Giant Coin Pouch, White Cap, Direwolf Veil, Bone Armor

Post-Daimon : Giant Coin Pouch (verify), Foreign Medicament, Lordly Tonic, Bitterblack Novelty Lv.2, Grisly Bone Armor, Maneater

17
Kept Sour Ambrosial Meat, Kept Giant Fish, Bitterblack Novelty Lv.1

Pre-Daimon : Interventive, Kept Beast-Steak, Throatcutters, Chain Coif, Chainmail Bracers

Post-Daimon : Panacea, Throwblast, Bitterblack Novelty Lv.2, Grisly Skull, Dragon Knight's Helm, Coupled Headgear, Maneater

18
Bitterblack Novelty Lv.1, Bitterblack Gear Lv.1

Pre-Daimon : Brigandine Jerkin, Worker's Gloves, Violet Neck Wrap

Post-Daimon : Rift Bicrystal, Bitterblack Novelty Lv.2

Except where noted items can be expected to be obtained at any time
Notes