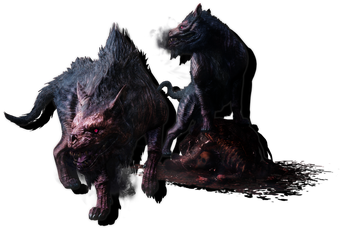 Garms
are an
Enemy
in
Dragon's Dogma: Dark Arisen
.
Garms are huge, wolf-like quadrupedal beasts that hunt in packs.
Garms are necrophagous creatures; the stench of death and rotting corpses attract these creatures. They feast on the corpses of fallen foes and comrades. Their appearances are not entirely random as the Arisen can influence the spawn rate of Garms; the more death within Bitterblack Isle the more likely one or more of these creatures will spawn.
Using Rancid Bait Meat will lure one (or more) of these creatures. Garms belong to the Wolf family of monsters. As such their behavior is the same; however these creatures rather act alone than together. Given the fact that they are necrophagous, they would eat anything including their own kind. Traveling alone would be side trait of eating each other for fear of three or more turning against one.
Information and Stats
Edit
General Info
Edit
| Attack | Type | Description |
| --- | --- | --- |
| Blinding Mist | Spec | The Garm exhales a black mist causing Blindness for those afflicted. |
| Ram and Toss | Phys | Using a two hit attack, the Garm rams its head into the foe and then launches them up into the air. Players hit by this attack will take fall damage. |
| Grab and Drag | Phys | Grabs a target who has been knocked to the floor and drags them a fair distance away dealing constant damage. Then it proceeds to maul and exhale Blinding Mist dealing significant damage and causing Blindness until freed (wiggle L-stick). Other Garms can join in on the attack, increasing damage and likelihood of death. |
| Last Breath | Phys/Spec | Upon death, the Garm will let out a final Blinding Mist from their bodies dealing damage and causing Blindness. |
Spawning Garm Infinitely
Edit
Intuitively the following steps can be taken:
(1) When in the Garden of Ignominy (Or any other location Garm frequently spawn) defeat all enemies [1] that spawn.
(2) Save the game.
(3) Stab the Arisen by using the Godsbane.
(4) Reload the save.
(5) Upon reloading drop a piece of Rancid Bait Meat. Garms will spawn.
(6) Defeat the Garms.
(7) Zone the area by leaving and then re-enter.[2]
(8) Repeat the steps 2-7 above to re-spawn the Garms again.[3]
↑

Eventually, enemy corpses will decompose. Enemies must be refreshed and killed again.
References
Edit