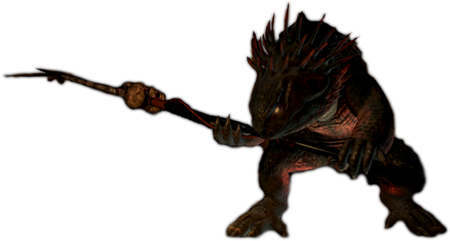 Geo Saurian is a Enemy in Dragon's Dogma
Geo Saurians are powerful Saurians found in dangerous areas. They don't cloak as much as the Sulfur Saurians do, but they are much tougher to compensate. They can spew a substance that causes Burning if hit. They are highly weak to Ice attacks.
Information and Stats
Edit
| Attack | Type | Description |
| --- | --- | --- |
| Spear Slash | Phys | Slashes its spear at a target in front of it. |
| Tail Whip | Phys | Whacks targets attacking its tail. Causes knock back. |
| Spit | Mag/Status | Spits a blob of fire at a target. May cause burning. |
| Jumping Attack | Phys | Jumps at a target out of the water and lands on them. |
| Jumping Spear | Phys | Leaps at a target and stabs them with its spear. Knocks the target away and down. |
| Hit and Run Bite | Phys | When its tail is severed, it will slither up to a target and bite them in the legs, and then run away. |
| Cloak | Spec | Geo Saurians are able to cloak for ambush attacks or regular attacks, though they prefer to ambush while cloaked and remain uncloaked afterwards. |
| Guard | Spec | Holds up its spear in a defensive stance that blocks all frontal and side attacks. The Tail is not protected, and the guard may be broken by strong attacks. |
| Counter Attack | Phys | If guard is not broken when attacking, it will retaliate with a spear attack that knocks its target down. |
| Guard Break | Phys | The Saurian does a Sparta kick that breaks guards and knocks targets down. |
Locations
Edit
Highly weak to Ice-based attacks.
Like all saurian species, cutting off the tail greatly reduces their defenses.