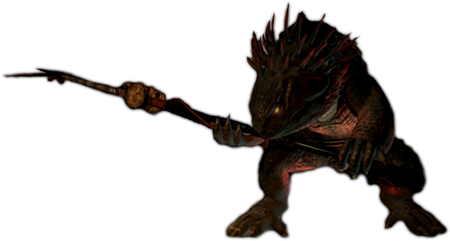 Giant Geo Saurian is an enemy in Dark Arisen.
Information and Stats
Giant Geo Saurian are powerful versions of regular Geo Saurians. Like their regular versions, they don't cloak as much as the Sulfur Saurians do, but they are much tougher to compensate. They can spew a substance that causes Burning if hit.
Type

Saurians

Experience
gained
Base Experience of 2600

Can be more or less depending on a few factors such as:

Location

The Pilgrim's Gauntlet: Second Floor. (Either Giant Geo Saurian or Pyre Saurian will spawn)
Forsaken Cathedral: First Floor. Stairs that lead to Dark Bishop and Cursed Dragon. (Goblin Shamans and Corrupted Pawns may also constantly appear here - defeat and respawn of the Bishop and Dragon may cause the lesser foes to change)

Items
Stats
Health
Attack
Defense
Magick
Attack
Magick
Defense
Weight
22000
2400
780
500
260
 ??
Relative
Damage
Slash
Bash

Fire

Ice

Thunder

Holy

Dark
70%
120%
30%
300%
100%
100%
100%
Sources: Dragon's Dogma - ドラゴンズドグマ & Dark Arisen (www10.atwiki.jp) and in-game testing.
Attacks
| Attack | Type | Description |
| --- | --- | --- |
| Spear Slash | Phys | Slashes its spear at a target in front of it. |
| Tail Whip | Phys | Whacks targets attacking its tail. Causes knock back. |
| Spit | Mag/Status | Spits a ball of fire at a target. May cause Burning. |
| Jumping Attack | Phys | Jumps at a target out of the water and lands on them. |
| Jumping Spear | Phys | Leaps at a target and stabs them with the spear. Knocks the target away and down. |
| Spear Toss | Phys | Tosses its spear at the target as a last resort. Afterwards, the Saurian will flee. |
| Hit and Run Bite | Phys | When its tail is removed it will slither up to a target and bite them in the legs and then run away. |
| Invisibility | Spec | Saurians are able to turn themselves near invisible for ambush attacks or regular attacks. |
| Guard | Spec | Holds up its spear in a defensive stance and blocks all frontal and side attacks. However, the Tail is not protected, and the guard may be broken by strong attacks. |
| Counter Attack | Phys | If guard is not broken when attacking, it will retaliate with a spear attack that knocks you down. |
Tactics