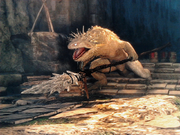 Giant Saurian Sage is an Enemy in Dragon's Dogma: Dark Arisen.
Overview
A much larger version of the Saurian Sage. Giant Saurian Sages often attack with magic but they can be staggered easily when attacked from behind. Their jumping attack will deal massive damage to anyone in the party with low defense.
Giant Saurian Sages can and will cast Anodyne on themselves and other enemies in the room. 
Stats
Health
Attack
Defense
Magick
Attack
Magick
Defense
Weight
26000
2400
680
1500
950
 ??
Relative
Damage
Slash
Bash

Fire

Ice

Thunder

Holy

Dark
100%
70%
70%
70%
70%
20%
200%
Sources: Dragon's Dogma - ドラゴンズドグマ & Dark Arisen (www10.atwiki.jp) and in-game testing.
Tactics
Tactics for fighting a Giant Saurian Sage are much the same as for a Saurian Sage - except that the giant version can be climbed, but not grappled.
Due to their high Magick and elemental resistances it can be challenging to kill a Giant Saurian Sage with common Magick spells. Employ Dark based or Physical based attacks to kill it.