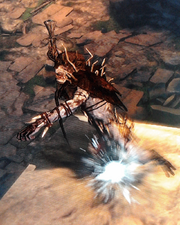 Goblin Shaman is an Enemy in Dragon's Dogma: Dark Arisen.
Overview
Goblin Shamans can be found on Bitterblack Isle. They are the size of a small Grimgoblin or normal Goblin, and are spellcasters. Goblin Shamans wear a cape made of dark fur, a crown-like headgear and carry the staff Favored Flower.
Goblin Shamans are heavily resistant to magick, but have little physical defense. However, they will cast Spellscreen to improve the resistances and defenses of themselves and their allies that may enter the spell's area of effect. Other spells they cast are Ingle, Levin and Frigor.
Stats
Health
Attack
Defense
Magick
Attack
Magick
Defense
Weight
5500
650
280
1500
1350
40 kg
Relative
Damage
Slash
Bash

Fire

Ice

Thunder

Holy

Dark
100%
100%
50%
50%
50%
100%
40%
Sources: Dragon's Dogma - ドラゴンズドグマ & Dark Arisen (www10.atwiki.jp) and in-game testing.
Tactics
Resistant to most magick elements, to Holy least of all.
Weak against physical attacks.
Can be Silenced.
Knocking down a Shaman can be effective in reducing their defenses.
It may be easier/quicker to knock them down with a heavy attack, then grab and throw them off an edge or against a nearby wall.  
Pawn Bestiary Knowledge
For full information, refer to the Bestiary page or the corresponding section on the Goblin page.
Enemy specific:
May need to attack with Magick to witness Magick immunity
In addition to witnessing these techniques, it is necessary for Pawns to participate in obtaining a combined kill count with Greater Goblin of 390 either with their own Arisen or while travelling with others. Confirmed combination of 290 Greater Goblin + 100 Goblin Shaman, along with reports of 175 Greater Goblin + 215 Goblin Shaman. Any requirement for a minimum for either beast is not yet confirmed.
Pawn chatter
" 'Tis nigh-immune to magick!"
"Magick ill serves against goblin shamans!"
Gallery