Golden Belt is armor available in Dragon's Dogma.
Description
"A magnificent gilded belt worn only by those who achieve wide renown."
The design of the Golden Belt is also used in the Scale Coat, in a lesser metal.
Usable By
Stats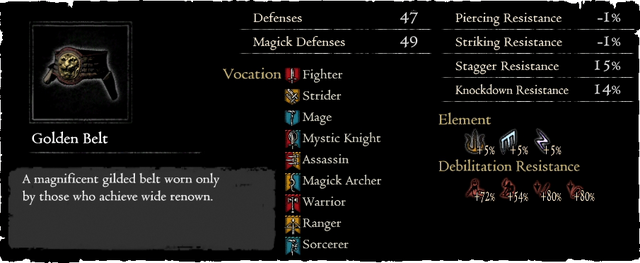 Location
Enhancement Item Locations
Notes
Has the highest base strength bonus of any armor in the game, however, this is no longer true in the Dark Arisen version as the Assault Boots are stronger still.
The base Strength add is +20. This amount is further multiplied via augments, giving additional strength value that vanishes when those augments are removed. Augments which increase strength include Clout, Vehemence, Bloodlust, Exhilaration and Opportunism - three of which are conditional upon the Arisen's environment and state of health.
Gallery