Golden Rapier is a weapon available in Dragon's Dogma.
Description
"A sturdy rapier of golden alchemick metal. Worth a fair bit of coin, but otherwise unremarkable."
Usable By
Stats
Location
Enhancement Item Locations
Notes:
Goldforging and enhancing Golden weapons increases their chance of inflicting Silence. The Silence debilitation is most useful against the Dark Bishop, Frostwyrms, Wights and Liches, since it renders these foes harmless. They continue to try to cast spells, unable to heal the debilitation until the condition wears off on its own... or you kill them first.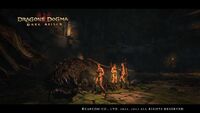 Selling Golden weapons for profit early in the game is a good way to accumulate gold, prior to accessing the game's later farming areas such as the Everfall.
Golden Weapons are the only weapons that inflict Silence; these weapons must be reinforced to at least 3* to acquire the deblitation.
Trivia
Mainly used for thrusting attacks, the slender Rapier was widely used in Europe throughout the 16th and 17th centuries. Its name derives from the French word "rape", meaning "grated". This refers to the Rapier's perforated, swept hilt which resembled a cheese grater of the period. (Source: paraphrased from Wikipedia).