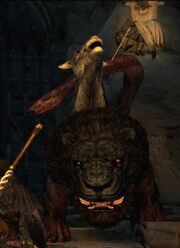 Gorechimera is a Enemy in Dragon's Dogma
Similar to the regular Chimera, the Gorechimera is a stronger creature found in more dangerous areas in Gransys. It differs from the Chimera however with the ability to heal itself, making it an even tougher enemy to take down. It also differs from the regular chimera in that it sports a black lion head and snake (the goat already being black/grey).
Just like the regular Chimera, the Gorechimera's goat head takes massively increased damage from Physical attacks, and the Lion head takes increased damage from magic. Severing the snake tail will usually cause the Gorechimera to collapse, though the tail will regenerate if the goat casts the heal spell.
Locations
Edit
Before fighting a Gorechimera, there are a couple of things you should take into consideration:
Its serpentine tail will regrow after the goat casts the heal spell (you can continuously kill it for loot)
The Goat-head should be your priority, as you can knock the lion unconscious, or stall the snake, but the goat will just revive them. This makes the goat the main survivability of the Gorechimera, aside from the massive health.
The snake tail will usually pull any fighters off the main body, so you should try to chop the tail off then kill the goat as quickly as possible, preferably dealing damage to both before chopping the tail off and going for the finish (so it is weaker and faster to kill).
Information and Stats
Edit
General Info
Edit
| Health | Attack | Defence | Magick Attack | Magick Defence | Weight |
| --- | --- | --- | --- | --- | --- |
| 60,000 | 1,400 | 360 | 250 | 300 | 2,000 kg |
Damage Taken
Edit
| Slash | Bash | Fire | Ice | Thunder | Holy | Dark |
| --- | --- | --- | --- | --- | --- | --- |
| 60% | 60% | 30% | 150% | 100% | 120% | 30% |
| Attack | Type | Description |
| --- | --- | --- |
| High Levin | Mag | Casts 3 bolts of lightning in an area near a target. |
| Charge | Phys | Charges at a target. |
| Roar | Spec | The lion roars which knocks back anyone close by. |
| Acid Sludge | Mag/Status | The snake spews acid in a sweeping arc that lingers on the ground and causes fire damage to anyone inside with a chance of being caught on fire. |
| Snake Bite | Phys | The snake will bite anyone near it, or climbing on the Gorechimera. |
| High Torpor | Status | The goat casts a torpor inducing field which will slow down anyone within. |
| Rampage | Phys | When the lion is the last head remaining, it will charge at random targets in quick succession and be difficult to hit. |
| Anodyne | Mag | The Goat will heal the Gorechimera with this spell. |
| Sleep | Status | Casts a sleeping spell that will cause anyone near it to fall asleep. |
| Snake Grab | Phys | The snake can grab a target near it and hoist them into the air, while the other heads bite them continuously. Wiggle the L-stick to free yourself. Sometimes the snake will throw the target to the lion's head, which follows up into the Lion's Meal attack. |
| Lion's Meal | Phys | The lion will pounce on a sleeping or downed target and proceed to chew on them, dealing high damage. Free yourself by wiggling the L-stick enough, or else you may die. |
| Exequy | Spec | A circular red sigil will appear and begin charging. Anyone within it when it finishes charging will be instantly killed. Unlike the sorcerer's exequy spell, the Gorechimera does not need to channel it. |
Item Drops
Edit
*Percentages are Post-Game Only