Gossip's Mask is armor available in Dragon's Dogma.
Description
"A mask painted with the frightening image of open jaws. meant to strike fear into one's foes."
Usable By
Stats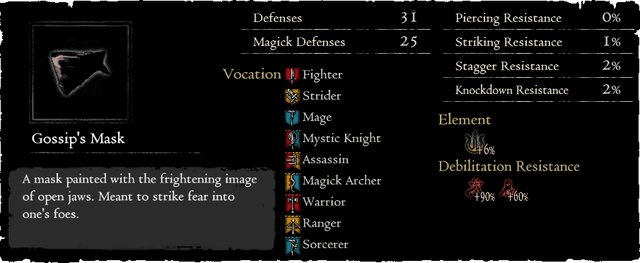 Location
Good chance of finding in a chest in Abandoned Campsite
Also found in Maul's encampment in The Ruins of Aernst Castle in southwestern Gransys. Rare drop from a wooden chest in the broken tower on the way to Salomet's Grimoire.
Also found in a chest in the Witchwood. From the western entrance, may be found in the first chest on the left of the path, on ledge overlooking small waterfall. (5% chance). 
Enhancement Item Locations
Trivia
The image on the mask appears to be the maw of a wolf.
Gallery