Grisly Armor Set is armor available in Dragon's Dogma.
Description
"A set made from unbreakable bone from a creature beyond the rift."
Intended for Fighters, Warriors, and Mystic Knights. The bracers and greaves may be worn by daggerists too.
Set Pieces
Usable By
Stats
Location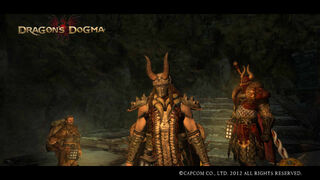 All set pieces can be acquired in The Everfall.
Grisly Skull
Grisly Greaves

Can be purchased from Joye in the Chamber of Remorse in Everfall.