Gryphic Armor Set is armor available in Dragon's Dogma.
Description
"Exquisite silver armor wrought in the form of the noble griffin."
Pieces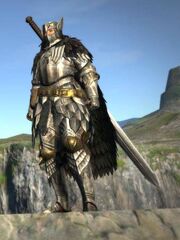 This very heavy armor can be used by Fighters, Mystic Knights, and Warriors; only the Cloak is usable by all Vocations. The relatively low magic defense, and full armor coverage makes this suit ideal for the Warrior.
The longsword Gryphic Victory is perfect match for the set.
The Silver Chainmail Set is a good choice of underarmor to complement this heavily armored suit.
The set can be bought from Mathias at the Greatwall Encampment, Alon in the Ancient Quarry, and at Caxton's Armory in Gran Soren. Parts can be got from chests atop the Bluemoon Tower. The sword can only be obtained from Ser Berne as quest reward.

Stats
Gallery