Guard Duty is a quest available in Dragon's Dogma.
Objective
Edit
"Madeleine the merchant seeks safe passage to the encampment. You hope to earn something worthy from this escort duty."'
Upon activation:
Despite her safety concerns, Madeleine has a knack for wandering off. Heed her closely as you travel to the encampment.
Upon completion:
You saw Madeleine safely to the encampment. Quest reward received.
The quest Bad Business will become available towards the end of the game.

Guard Duty can be picked up back in Cassardis after the Arisen has finished the Call of the Arisen story quest in the Encampment.
To start it, return to Cassardis and check out Pablos's Inn. A woman in a colorful dress named Madeleine will be there and she will ask the Arisen to escort her to the Encampment because it's too dangerous for her to go alone.
Walkthrough
Edit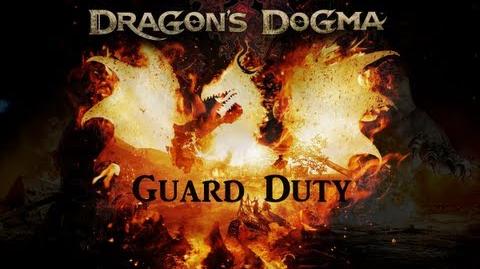 It's best to do this quest during the day so you don't have to worry about monsters.
Simply run her to the encampment, sticking to the road. She likes to tell you to stop for a second while she looks at something but you can usually ignore her and she'll come on ahead. Alternatively you can pick her up and carry her, but after a few seconds she'll hit you and you'll drop her.
Your pawns might say some funny things about her.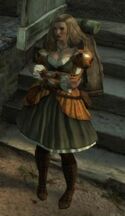 After you arrive at the encampment, Madeleine will beg for 1,000 gold. She needs it to be able to travel to the capitol and promises to eventually repay you, in the form of a small discount at her shop. Choose whichever option you wish to finish the quest.
Before you leave her, make sure you take a look at her shop. She has some rarer items than the shops in Cassardis.
Note that if you place a portcrystal at your destination before taking on the escort quest, you can use a ferrystone to warp straight there; during escort missions, the person you are escorting temporarily joins your party and can warp with you. Not really worth it for this quest since the walk is very short, however.
If you haven't done this quest, she can still be found in Union Inn once you reach Gran Soren. If you started the quest, Chasing Shadows, she will disappear from the inn and can be later found in the abandoned house in front of The Black Cat after finishing the quest.