Headless Icon is an item available in Dragon's Dogma.
Description
"A decapitated religious symbol. Curses the user when invoked."
Inflicts Curse when used.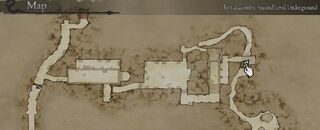 A Headless Icon can be found on the second floor in Catacombs, in a chest behind a scaffold ladder (approximately 1 in 3 chance).
Additionally may be stolen from a Skeleton Mage using Master Thief(verify) (striking while they cast enables a successful steal).
Quests
Combining
Product of
Gallery