Heaven's Key is a weapon available in Dragon's Dogma.
Description
Edit
"Daggers infused with divine might through a method lost to time. Their holy enchantment will never fade."
Usable By
Edit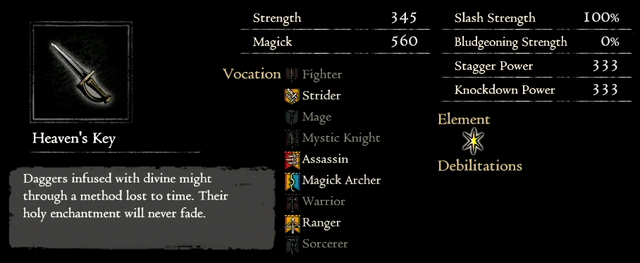 Random reward for slaying the Ur-Dragon (Offline and Online). One does not need to land the killing blow to the Online Ur-Dragon to get this item as it can be part of the reward for contributing towards one generation's demise.
Enhancement Item Locations
Edit
These are the most powerful (magickal damage) daggers that can be gifted or traded to another Pawn.
Considered the best daggers to use against the Ur-Dragon due to its permanent Holy enchantment, which the Ur-Dragon is weak against.

02:35

Solo Assassin vs Living Armor. No damage.-2

Heaven's Key is a split-damage weapon that will attack both the physical and magickal damage thresholds. Arming a character with a high magick stat with this weapon can be very effective since the magickal melee damage threshold is significantly lower than the physical one.
Magic-enhancing augments like Acuity and Attunement increase the effectiveness of magic imbued weapons. Acuity and Attunement are the magic-boosting equivalents of Clout and Vehemence for physical strength-boosting.
Although they are not the most powerful primary weapons in the game, Holy enchanted weapons are arguably the most useful and versatile weapons to wield since they damage every creature type in the game (except Death and the Dark Bishop in Dark Arisen).
This weapon has a minimal level 41 requirement without a stamina drain penalty. Any character using this weapon who is below the level 41 requirement will experience lower stamina recovery as well as stamina loss with regular attacks, skill usage and running. With Heaven's Key daggers equipped using a secondary weapon such as a Rusted Bow for regular attacks if the character is below the level requirement for daggers.
In the Gospel of Matthew 16:19, Jesus says to Peter, "I will give you the keys of the kingdom of heaven, and whatever you bind on Earth shall be bound in heaven, and whatever you loose on Earth shall be loosed in heaven."

The 16th century painter Peter Paul Rubens depicted many works of sacred art, including "St George and The Dragon" (wielding the Ascalon sword) and "Saint Peter holding the Keys of Heaven".