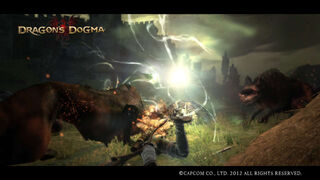 Hellhound is an Enemy in Dragon's Dogma.
Overview
Hellhounds are a larger, much more dangerous version of Wolves with black fur and far more health. They can be found throughout Gransys during Post-Game and on Bitterblack Isle.
Hellhounds spew fireballs, grab and drag knocked down characters a fair distance away, and use their maul attack to inflict large amounts of damage. When engulfed in flames, their bites cause additional Fire damage.
Stats
Health
Attack
Defense
Magick
Attack
Magick
Defense
Weight
9000
800
240
880
300
200kg
Relative
Damage
Slash
Bash

Fire

Ice

Thunder

Holy

Dark
100%
80%
resistant
150%
70%
120%
50%
Sources: Dragon's Dogma - ドラゴンズドグマ & Dark Arisen (www10.atwiki.jp), the 'Dragon's Dogma Signature Series Guide' and in-game testing.
Attacks
| Attack | Type | Description |
| --- | --- | --- |
| Charge | Phys | Charges at a target, knocking them back. |
| Fireball | Mag/Status | Shoots a fireball at a target, knocking them down with a chance of also causing burning. If the fireball hits the floor, it explodes causing area damage and knockdown. Hellhounds will always spam this attack if their target is not on the same level of elevation as them. |
| Grab and Drag | Phys/Spec | Grabs a target who has been knocked to the floor and drags them a fair distance away, dealing constant damage. It then proceeds to deal significant damage through a series of biting attacks that continue until the character is dead or freed (wiggle L-stick). Other Hellhounds can join in on the attack, increasing the damage and likelihood of death. They can also drag characters off a nearby cliff to instantly kill them. |
| Fire Cloak | Mag/Spec | Cloaks itself in flames, causing all of its attacks to deal fire damage as well as increasing the damage of the fireball attack. Also occurs instantly when a Hellhound is hit with a fire-based attack. |
| Grab and Bite | Phys | Bites a character's leg and holds them in place, mauling them continuously until freed by wiggling the L-stick. Multiple Hellhounds can join in on this attack, dealing severe damage. |
Tactics
Offensive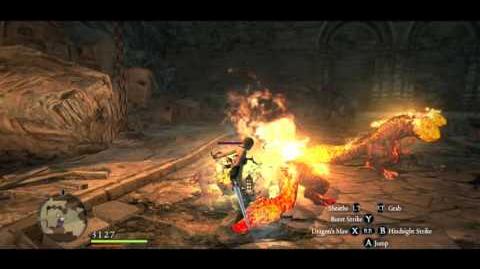 Class specific
Defensive
Hellhound fireballs and pounces have high chance of causing knockdown, which is usually followed up by the drag attack.
One way to avoid getting dragged by Hellhounds is to use Instant Reset whenever the Arisen gets hit or knocked down.
Hellhound lunges and fireballs can be easily blocked and perfect blocked.
Pawn Bestiary Knowledge
For full information, refer to the Bestiary page or the according section on the Wolf page.
Enemy specific:
In addition to witnessing these techniques, it is necessary for Pawns to participate in killing 150 Hellhounds either with their own Arisen or while travelling with others.