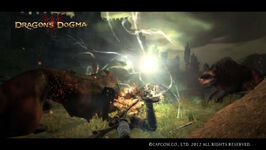 Hellhound is a Enemy in Dragon's Dogma.
Hellhounds are much like wolves, but are much more dangerous and have the ability to cast fireballs. They have far more HP than wolves, and are not easily stunned. Due to this and their speed, it can be very difficult to land consecutive hits on them. They are only found just before, and after defeating the Dragon.
They have the ability to drag you away if you are down and use their grapple attack to deal large amounts of damage. Their fire balls cost a lot of stamina to block, so it's advisable to dodge them if possible. They can also cloak themselves in flame causing their bites do fire damage.
| Attack | Type | Description |
| --- | --- | --- |
| Charge | Phys | Charges at a target, knocking them back. |
| Fireball | Mag/Status | Shoots a fireball at a target that knocks them down and has a chance of burning. If it hits the floor it explodes into an AoE attack that causes knockback. They spam this ALOT so watch out. |
| Grab and Drag | Phys/Spec | Grabs a target who has been knocked to the floor and drags them a fair distance away dealing constant damage. Then it proceeds to bite the target to death, dealing significant damage until freed (wiggle L-stick). Other Hellhounds can join in on the attack, increasing damage and likelihood of death. They can also drag you off a nearby cliff to instant kill you. |
| Fire Cloak | Mag/Spec | Cloaks itself in flames, causing all of its attacks to deal fire damage as well as increasing the damage of the fireball attack. Also occurs instantly when hit with a fire-based attack. |
| Grab and Bite | Phys | Bites you in the leg and holds you in place, biting continuously until you free yourself by wiggling the L-stick. Multiple Hellhounds can join in on this attack to deal severe damage. |
Hellhounds like most postgame enemies are susceptible to holy attacks.
Do NOT attempt to attack them with fire attacks. It does little damage and causes them to instantly become cloaked in fire, making your life harder.
Ice attacks are also very effective, often freezing them within 3-4 attacks.
The Strider's Ensnare/Implicate Skill can easily bring several Hellhounds to the ground for follow up attacks or grappels.
Knocking them into the air with skills such as the Fighter's Antler Toss can aid in stopping them in their tracks so you can go for follow up attacks.
Try to avoid being hit by a fireball, as this will knock you down and often leads into their dragging off grappeling move, which is often fatal. Beware of Hellhounds flanking behind you because they will knock you down while your attention is elsewhere.
It is useful to fight Hellhounds as a Strider or a Ranger, as the double jump ability can help you to stay even further away from their fireball attack, as well as having a projectile weapon of your own to land the first strike on them from a distance.
The Mystic Knight's Ruinous/Perilous Sigil will stop a Hellhound's approach and help keep it at bay.
Refrain from keeping Hellhounds tightly grouped together, as they may accidentally ignite one another with their fireball, and a pack of fire-cloaked Hellhounds can very quickly turn a battle into a total nightmare.
Unlike most other fire-based spells, Bolide & High Bolide can inflict decent damage to a Hellhound, if you're willing to deal with a fire-cloaked Hellhound if it manages to survive the impact or isn't hurled off of a cliff.
Locations (Post-Dragon)
Edit