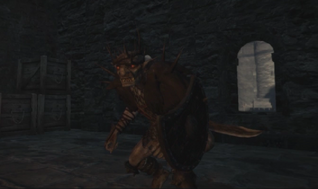 Hobgoblin is a Enemy in Dragon's Dogma.
The Hobgoblins resemble their smaller goblin cousins, but are about the same size as a human, and just as physically strong. Their intelligence does not seem to have been improved upon, but they do seem to have a higher social standing when next to the smaller goblin kind.
The same tactics applied to a regular goblins can be applied here. Being that they are tougher though, one should put them on the top of their list when facing a goblin tribe.
It is recommended to kill the leader Hobgoblin (the one wearing a Helm or the most armor) as this will cause the other Goblins to become less coordinated in their attacks, thus easier to kill.
In spite of what pawns often say, goblins are not weak to Fire or Ice. They resist Dark, but receive normal damage from all other elements.
When fighting the group of Goblins and Hobgoblins near the Ancient Quarry, be careful if they run near an Ox, because there is a chance you might accidentally strike the Ox, adding a new threat to the battle if you don't kill it immediately. There is also a Hobgoblin near the Quarry that (for me anyway) has a tendency of disappearing and re-appearing, which can make the battle a real pain as you may think you have eliminated all of them only to get hit in the back by this vanishing Hobgoblin.