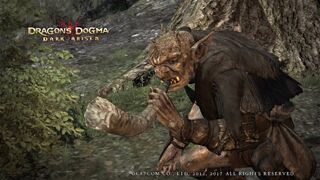 Hobgoblin is an Enemy in Dragon's Dogma.
Overview
The Hobgoblins resemble their smaller Goblin cousins, but are about the same size as a human, and just as physically strong. Their intelligence does not seem to have been improved upon, but they do seem to have a higher social standing when next to the smaller Goblin kind.
Hobgoblins oft live in the same packs as their Goblin cousins, and despite their higher strength can be seen with a much smaller Goblin 'elected' as their leader.
Combat
Hobgoblins use many of the same tactics as Goblins, including rocks, oil flask and torch throwing, barging attacks to break a defence or knockdown - they have access to better weapons and equipment and are able to throw a flask causing blindness, as well as Dragon's Spit.
Hobgoblin equipment is like that of Goblins, but improved, shields now include a Pelta, whilst the Goblin club is replaced with a blackish Cutlass like weapon. Skull Belts and pieces of iron plate armor are common, many also wear a form of Feral Cape.
Hobgoblins share similar elemental resistances with Goblins, and like them are incapacitated by Poison and panic when they are burning. They are more resistant but susceptible to other debilitations such as blindness or torpor.
Stats
Stats
Health
Attack
Defense
Magick
Attack
Magick
Defense
Weight
2,000
410
140
100
120
80
Relative
Damage
Taken
Slash
Bash

Fire

Ice

Thunder

Holy

Dark
100%
100%
100%
100%
100%
100%
60%
Sources: Dragon's Dogma - ドラゴンズドグマ & Dark Arisen (www10.atwiki.jp), the 'Dragon's Dogma Signature Series Guide' and in-game testing.
As with Goblins, a hornblower raises the attack of nearby allies.
The Hobgoblin chief encountered during A Fortress Besieged is unusually strong.
Tactics
Exploit the susceptibility to debilitations such as poison, torpor, blind, burning and so on.
Kill the leader to demoralise the remainder of the pack.
Hobgoblins have a diving tackle and a jumping sword swing with surprisingly high knockdown power. Another good reason to kill them first.
Pawn Bestiary Knowledge
For full information, refer to the Bestiary or the according section on the Goblin page.
In addition to witnessing these techniques, it is necessary for Pawns to participate in killing 300 Hobgoblins either with their own Arisen or while travelling with others.
Pawn Chatter
"Hobgoblin!"
"A hobgoblin, Arisen! Be wary!"
"Rrgh, if we cannot fell their leader soon..."
"The goblin falls! Strike, now!"
"'Tis far stronger than a common goblin!"
"Careful! It means to coat us in oil!"
"Stand clear! It's got Dragon's Spit!"
"Careful! It readies Dragon's Spit!"
Hobgoblin Chatter
Hobgoblin chief during A Fortress Besieged
"Bah! Fool humans!"
(laughs) "Think you've won?"
(laughs) "Dead: You lot are finished!"
"All the world, finished! All will die!"
"The Dragon comes!"
"Humans want destruction, too!"
"Humans want the dragon! Welcome it!"
"Kill each other! Kill all you like! The end is nigh!" (laughs)
Gallery