Iris Ring is a jewelry piece available in Dragon's Dogma.
Description
"A magickal ring reminiscent of a blue iris. Offers protection against being frozen solid."
Prevents being frozen.
Usable By
Stats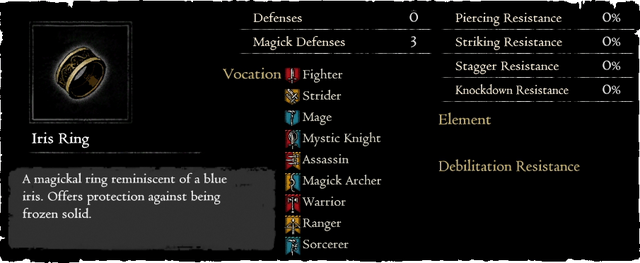 | | |
| --- | --- |
| Magick Defenses | 3 |
| Frozen Solid | 100% |
Location
Sold by:
May be found in a chest in the Watergod's Altar. After finding the lever and crossing the bridge, Skeleton Mages are encountered. They stand guard right beside the chest where the ring resides. (low chance of looting)
May be found in a chest within Soulflayer Canyon on the lowest floor, next to the group of Hobgoblins, or in a Weapon/Armor Pile near Sulfur Saurians and Phantasms.
Also may be found in a chest on a high ledge in the outer ruins of The Bluemoon Tower.
Notes