Iron Headgear is armor available in Dragon's Dogma.
Description
"A hood fixed with a plate of iron at the forehead, preserving easy movement while offering protection where it is needed."
A component of the Light Iron Armor Set. The Coupled Headgear is an improved version of this design of head armor.
Usable By
Stats
Upgrade
Level
0

1

2

3

Upgrade
Requirements
N/A
1,630 G
5,060 G
Rusted Plate x4
15,600 G
Dappled Ore x1
Click here for
requirements
750 RC Diamond x4
1,700 RC Rubicite x1
Defense
22
24
26
28
32
42
58
Magick Defense
16
17
19
21
26
42
56
Piercing Resist
1%
1%
1%
1%
1%
1%
1%
Striking Resist
1%
1%
1%
1%
1%
1%
1%
Stagger Resist
2%
2%
2%
2%
2%
2%
2%
Knockdown Resist
2%
2%
2%
2%
2%
2%
2%
Elemental Resist
-
-
Fire +1%
Fire +2%
Fire +4%
Fire +5%
Fire +8%
Debilitation Resist
Sleep +8%
Sleep +8%
Sleep +16%
Sleep +24%


Skill Stifling +6%

Sleep +32%


Skill Stifling +12%

Sleep +32%


Skill Stifling +12%

Sleep +40%


Skill Stifling +18%

Weight
0.88
0.88
0.83
0.75
0.66
0.66
0.66
Bonus

-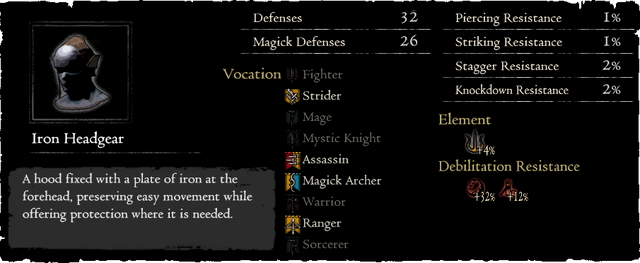 Location
Enhancement Item Locations
Gallery